CashForYourJunkCar.org is an independent publisher. You will find affiliate links which means we may earn a commission if you purchase through these links. It doesn't cost you anything & it helps us keep the site running.
Paterson, New Jersey is the third most populated city in The Garden State, which means there is no shortage of cars littering its many highways and byways. Those fast-moving, high-priced hunks of metal help the region's 145,000 residents get to work, school, and college. Collectively, they travel millions of miles, cross city and state lines, and explore every inch of this great country.
Whether you're driving a pricey Audi, an eco-friendly Toyota, or a budget Honda, the final destination is the same: the junkyard. As a result, Paterson, New Jersey is home to several professional junk car services, all offering free quotes and cash for your damaged or old car. Donating your car is also an option.
In this guide, we'll look at the best of these junk car removal services in Paterson New Jersey. Services mentioned serve Paterson, NJ and the greater Passaic County area including: Totowa, North Haledon, Hawthorne, Paramus, Lodi & Saddle Brook, NJ. We have included a short list of non-profits in Paterson that may accept car donations as well.
Where You Can Get Your Junk Car Removed In Paterson, NJ
If you live in one of the Paterson, NJ zip codes and have an unwanted old car, a junk car removal company will pick it up and pay you cash or check for it:
07501, 07502, 07503, 07504, 07505, 07513, 07514, 07522, 07524.
How Much You Can Get For a Junk or Damaged Car In Paterson, NJ
| | | | | |
| --- | --- | --- | --- | --- |
| Make | Model | Year | Zip | Offer |
| Toyota | Corolla | 2009 | 07505 | $ 640.00 |
| Volkswagen | Jetta | 2008 | 07522 | $ 320.00 |
| Infiniti | I35 | 2002 | 07502 | $ 740.00 |
Junk Car Buyers, Junkyards & Removal Services in Paterson
Paterson, NJ is home to several major junk car services. For a no-hassle way to sell your used car, try one of the following professional services:
Junk Car Removal Services That Buy Cars In Paterson, NJ
Junk car removal companies will tow your car away and pay you for your old, wrecked, non-running car.
Junkyards in Paterson, NJ That Buy Junk Cars
The below junkyards may buy cars for scrap.
Harry & Phil's Auto Wrecking
45 Montgomery St,
Paterson, NJ 07501
(973) 278-4633
A & B Scrap Co
222 Presidential Blvd,
Paterson, NJ 07522
(973) 790-7959
A&R Used Auto Parts
1 Bergen St,
Paterson, NJ 07522
(973) 341-7375
Magic Auto Salvage
14 Bergen St,
Paterson, NJ 07522
(973) 790-1620
Triangle Used Auto Parts
185 River St, Paterson, NJ 07501
(973) 357-9777
Facts About Junk Cars in Paterson, New Jersey
Before you make the call and sell your clunker for cash, take a look at these surprising facts about junk cars in Paterson, and New Jersey in particular.
Rust Damage
New Jersey is part of the "Salt Belt," a term used to describe regions where road salt is used to minimize ice and snow during the winter. This substance adds some friction to road surfaces and helps minimize road traffic accidents.
On the one hand, fewer accidents mean your car is less likely to be damaged and scrapped, but on the other hand, all that salt may cause corrosion.
Keep in mind that New Jersey is one of the worst states for automobile rust.
Car Accidents
Every year in Paterson, there are approximately 15 to 20 residents involved in fatal car accidents, with hundreds more reporting serious injuries and property damage. All of this creates a lot of customers for the city's junkyards.
Busy Roads and Aggressive Drivers
New Jersey is notorious for troublesome roads, traffic laws, and drivers. It is not a state for the faint of heart. Not only is it densely populated, but many drivers make daily commutes to and from both Pennsylvania and New York, and if you're caught in the rush hour, you'll need nerves and patience of steel to make it through!
Title & Registration Services Near Paterson, NJ
The NJ MVC (formerly DMV) has vehicle centers that can assist with car titles if needed when you sell your car. Sadly, none of them are in Passaic County.
Newton MVC
51 Sparta Ave
Newton, NJ 07860
East Orange MVC
183 South 18th Street
Suite B
East Orange, NJ 07018
Wallington MVC
450 Main Ave
Wallington Sq.
Wallington, NJ 07057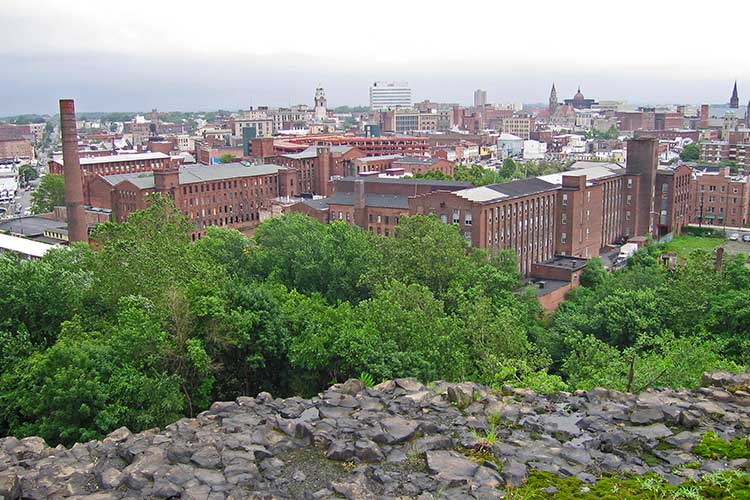 Donate Your Car in Paterson, NJ
Donating your car can be an alternative to selling it. Reach out to one of the below non-profit organizations to inquire about donating your car.
Paterson Habitat for Humanity
146 N 1st St, Paterson, NJ 07522
(973) 595-6868
The Salvation Army Family Store & Donation Center
31 Van Houten St, Paterson, NJ 07505
(973) 742-1126
United Way of Passaic County
301 Main St, Paterson, NJ 07505
(973) 279-8900
Resources for Paterson, NJ Residents
Selling Your Junk Car In New Jersey
You can learn the ins and outs of what you need to sell your junk car in NJ here.