CashForYourJunkCar.org is an independent publisher. You will find affiliate links which means we may earn a commission if you purchase through these links. It doesn't cost you anything & it helps us keep the site running.
Need to junk a car in the Old Line state? Cool. There's not much to it. People decide to junk their cars a lot more than you would think, and for different reasons. Your car may have extensive damage from an auto accident, which could also result in expensive repairs. These repairs may likely exceed the actual value of the car, making the car not worth the money to repair.
Here's your guide to junking your car in Maryland without too many hassles and jumping through hoops.
How Do I Sell My Car to a Junkyard in Maryland?
The good news is that the condition of your car doesn't matter to junkyards. Your car could have no dents or multiple dents. Maryland junkyards aren't concerned with the car's exterior appearance. However, Maryland junkyards will make sure you have the necessary paperwork to junk your car.
Ready to make some extra cash? Sounds like a plan. To start the junk car process, you must first find a local Maryland junkyard. Don't worry. Finding an MD junkyard won't be the complicated process you're thinking it is. With internet technology, you can find pretty much anything, including local junkyards. The phrase that pays is "junkyards near me". Type this phrase in your search engine's search bar. It doesn't matter if you use Google, Bing, or some other platform.
In a few seconds (after you hit enter) you will have a list of junkyards in your area. Choose a junkyard and browse their website. Regardless of the junkyard website you choose, you will be required to provide information about your vehicle and yourself. One piece of information that all junkyards need to know about is the vehicle's identification number (VIN).
After you provide the required information, you will be provided with a quote. Keep in mind that junking a car isn't a get-rich-quick scheme. However, you can make extra cash. If you accept the quote, you will proceed to the next part of the junking process. If you decline the quote, you won't have to take any further action. For whatever reason, the quote doesn't suit you, you can consider a different junkyard.
Junk Car Removal Companies That Buy Junk Cars in Maryland
The 3 companies below are nationwide companies that buy junk cars and sell them for parts. They will pick up your non-running or running junk car and give you a check in return. It's quick and easy to get a quote and they will pick up your car in about 48 hours.
Junk Car Removal Service Locations In Maryland
Sell your unwanted vehicle in Maryland including the following locations:
Columbia, MD
Germantown, MD
Silver Spring, MD
Waldorf, MD
Frederick, MD
Ellicott City, MD
Glen Burnie, MD
Gaithersburg, MD
Rockville, MD
How Much Junk Cars Sell For In Maryland
Junk and unwanted cars are priced based on the car's condition and how much they are worth when salvaged for parts or sold at an auto auction. Here is about how much you can make if you were to sell your junk, damaged or wrecked car in Maryland.
| | | | | |
| --- | --- | --- | --- | --- |
| Make | Model | Year | City | Sold For |
| Infiniti | M45 | 2007 | Baltimore, MD | $ 480 |
| Nissan | Altima | 2013 | Columbia, MD | $ 725 |
| Nissan | Sentra | 2015 | Germantown, MD | $ 355 |
| Volkswagen | Jetta | 2010 | Silver Spring, MD | $ 310 |
| Ford | Freestar | 2006 | Waldorf, MD | $ 130 |
| Toyota | Prius | 2006 | Frederick, MD | $ 665 |
| Toyota | Tacoma | 2004 | Ellicott City, MD | $ 830 |
| Jeep | Grand Cherokee | 1999 | Glen Burnie, MD | $ 390 |
| Acura | 3.2TL | 2003 | Gaithersburg, MD | $ 240 |
| Toyota | Corolla | 2006 | Rockville, MD | $ 270 |
How Do I Get Rid of a Junk Car In Maryland?
Getting rid of your junk car in the state of Maryland isn't going to be too much of an inconvenience. After you find a local MD junkyard, tell the junkyard about your vehicles, such as the damage the car has, where the damage is located on the car, and other information about the vehicle's condition. Maryland junkyards may also want to know if your car is drivable. Let's not forget about the VIN!
Once the junkyard has information about your vehicle, they will provide you with a quote. You can accept or decline the quote. If your junk car is not in operational order, the junkyard will schedule a pickup time and tow the car to their junkyard. Keep in mind that you may be required to pay a towing fee if your car is towed to a junkyard.
Do You Need a Vehicle Title to Junk a Car in Maryland?
Whether you must have the car's title is up to the junkyard. As long as you have a proof of ownership document for the vehicle, you should be fine. Be sure to check with the junkyard to learn about their specific car junking requirements.
How Much Does It Cost to Junk a Car in Maryland?
The costs that are associated with junking a car in Maryland depend on the method you use to junk your car. If you're dropping your car off in person at a junkyard, there should be no fees you are required to pay, unless you don't have the vehicle's title. Without the car's title, you will pay for the duplicate Maryland car title and the fees that are required to transfer ownership of the car. These fees will usually be deducted from the quote you received to junk your vehicle. Some Maryland junkyards will charge a fee if they have to tow your vehicle to their junkyard.
What is a Junk Title in Maryland?
In Maryland, a junk car title is a title that is given to vehicles that can't legally be operated on the highways and roads of Maryland regardless if the vehicle can be driven. Junk cars don't have monetary value, except for some of their parts if the vehicle is being scrapped. A lot of junk vehicles have been involved in floods or sustained extensive frame damage because of a wreck. Other situations could have occurred that would make a car "junk". Cars that have a junk car title can't be sold for use in Maryland.
Can You Junk a Car With an Expired Registration in Maryland?
Your car's registration is a document that shows you've registered your vehicle in Maryland and have paid all associated taxes and fees. It is possible to junk a car that has an expired registration in Maryland. Be advised that you can't have an unregistered vehicle, junk or not, in a public area.
How Do I Get a Junk Vehicle Title in Maryland?
If you're junking your car in person, you must have:
The car's Certificate of Title (Form VR-005)
Your signature in the "Transfer of Title by Seller" section
If you don't have the car's title, you must complete a Maryland Application for a Duplicate Car Title (Form VR-018) and submit it to the Maryland Department of Motor Vehicles (MD Motor Vehicle Administration (MD MVA). Once you complete these steps, you can junk your vehicle.
If you are junking your car online via a junkyard website, you must:
Provide the vehicle's VIN
Phone number
Email address
Your address for the junk vehicle title (if applicable)
Photo of the car (optional in some Maryland cities)
Photo of the vehicle's VIN
Certificate of Destruction (or similar documentation)
Keep in mind that you may be requested to provide more or fewer documents depending on the city in Maryland you reside.
What Paperwork Do I Need to Scrap a Car in Maryland?
To scrap your car in the state of Maryland, you must provide different paperwork. The necessary paperwork to scrap a car in Maryland is as follows:
The Maryland Certificate of Title (must be appropriately endorsed for ownership transfer)
Lien sale documentation (must be executed for registration and transfer)
A salvage certificate (must be properly endorsed for transfer)
If you don't have the car's registration, you must provide a bill of sale. The car's bill of sale may be able to be used instead of collecting vehicle title signatures.
Can You Sell a Car With a Salvage Vehicle Title in Maryland?
Yes! You can sell a car that has a salvage vehicle title in the state of Maryland. To sell the car, it must be properly prepared to be sold. If you have already reported your vehicle as a junk car to the MD MVA, you will not be able to sell the vehicle or use it afterward. If your car is not a junk car but has a salvage title, you can go in person to your local MD MVA and report the car as a salvage vehicle. Once you complete this step, you can choose to restore the car or receive a revived salvage car title, which may be an awesome option for mechanics who are looking for a new project.
How Do I Get Rid of a Car I Don't Want?
You can get rid of a car you don't want in different ways. You can sell your car to a junkyard or a scrapyard. Whether you choose to junk or scrap your car, you need to complete the required forms and provide proof of ownership. Once you've done this, you will receive a quote stating how much money you will receive from junking your car. If everything is satisfactory, you can proceed with the junking or scrapping process and receive your funds.
If you have a car that is still in operational order, but you don't want or need the car, you can sell it to someone else in a private sale. Keep in mind that you will also have to provide the proper paperwork.
Does the MD MVD Buy Old Cars?
There is no buy-back program with the Maryland MVD. However, depending on how old your car is, your car may be considered an antique. Regardless of the car's age, you may be able to sell your car to an individual in a private sale using different platforms.
Can I Scrap My Car Without a Registration Document?
If you need to scrap a vehicle, but don't have the car's registration document, you will need to find a scrap yard that will junk your car for free or at a low cost. Once you recycle your car, its parts will be turned into materials used for building, such as bricks and steel.
Can I Scrap a Car That Is Not Registered In My Name?
Asking to scrap a car that's not registered to you is asking a bit much, and you can't do it. When you scrap or junk a car, you are required to provide proof of ownership documentation. In this situation, you won't be able to use a bill of sale as proof of ownership. Other documentation that does not suffice as proof of ownership documentation is proof of a valid MD auto insurance policy.
You must present proof of ownership of the vehicle to the junkyard because they report every vehicle they junk or scrap to the MD MVD. They are also required to report information about the individual who is junking or scrapping the vehicle.
Can I Scrap a Car Without a Vehicle Title?
You may be able to scrap your car without its title in Maryland, but it will make the junking process a little difficult, and you could lose money. If you don't have the car's title, you should consider completing and submitting an Application for Duplicate Certificate of Title (Form VR-018). If you want to proceed with junking your car without its title, expect to receive less money than you were originally quoted.
You will receive less money because the scrap yard or junkyard will be responsible for obtaining the car's title to transfer its ownership, which comes with different fees. The applicable fees will be paid using the money you would be paid to scrap the car.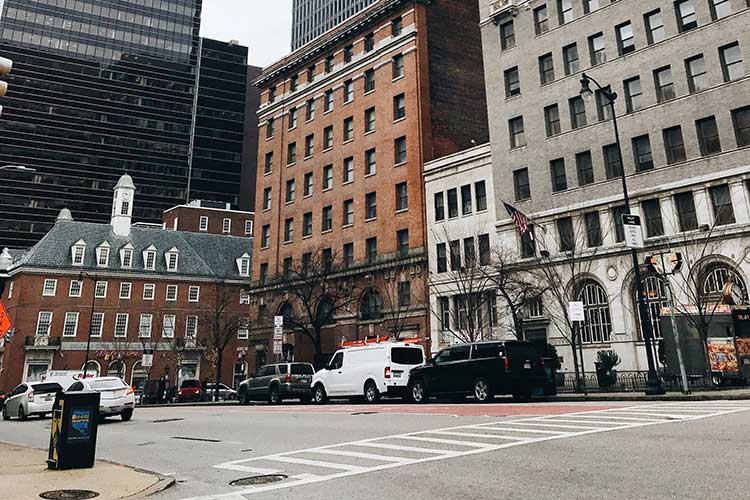 What Do You Need to Junk a Car in MD?
To junk a car in Maryland, you need to visit your local MD MVD office and present the Certificate of Title, which needs to be in your name or endorsed for transfer of ownership to you. You will also need the car's license plate(s).
Keep in mind that you may be required to pay additional fees if the car isn't registered or designated for non-operation status. Feel free to contact your local MD MVD branch for more information.
How Old Does a Car Have to be to Not Require a Vehicle Title in Maryland?
Most vehicles in Maryland are required to have a title. However, certain vehicles are an exception to the vehicle titling laws in Maryland, such as:
Miniature motorcycles
Hauled vehicles
Fire fighting equipment (fire trucks, fire engines, etc.)
Disaster relief vehicles
Golf carts
Forklift trucks
How Do You Junk a Car In MD?
Junking a car in Maryland is a straightforward process. If you have the forms you need, you can make your way to your local junkyard. If you don't have the required forms, you can head to your local MD MDV branch and request duplicates of the forms you need. Make sure you have proper identification. You may be required to provide additional documents depending on the type of forms you're missing.
Current Scrap Metal Prices in MD?
If you're going to junk your car, it's a good idea to be aware of the prices per pound a scrap yard or scrap metal recycling company in Maryland is paying before you visit one. Below, you will find the standard prices you should know about in Maryland.
Aluminum – $1.25
Aluminum Alloy – $0.98
Copper – $4.27
Brass – $3.38
Nickel – $12.57
Tin – $11.39
Zinc – $1.67
Steel Scrap – $0.20
Steel Rebar – $0.39
Maryland Junkyard Locations
There are different junkyard locations in the state of Maryland. Check out these locations and see if there's a junkyard in your area.
Decker's Salvage Company Inc
2200 Berlin St
Baltimore, MD 21230
(410) 752-2546
Monday – Friday (8 AM – 4:30 PM)
Saturday and Sunday (Closed)
Andy's Auto Parts
4551 Tanglewood Dr
Bladensburg, MD 20710
(301) 277-7100
Monday – Friday (8 AM – 5 PM)
Saturday and Sunday (9 AM – 3 PM)
Bowie Used Auto Parts
6309 Crain Hwy
Bowie, MD 20715
(301) 262-8200
Monday – Friday (8 AM – 5 PM)
Saturday (8 AM – 2 PM)
Sunday (Closed)
You did it! You're now part of the car-junking guru society! Now that you're familiar with the car junking process in Maryland, you can junk your car with confidence and earn some cash. Happy junking!
Popular Cities To Junk A Car In Maryland