CashForYourJunkCar.org is an independent publisher. You will find affiliate links which means we may earn a commission if you purchase through these links. It doesn't cost you anything & it helps us keep the site running.
Looking to sell your junk or unwanted car in Philly? Or do you prefer to donate it? Either way, we have a few options to help you get your car removed and get cash for your junk car in Philadelphia.
Can You Sell A Junk Car For $500 Cash In Philadelphia Without A Title?
You will need a title to sell your car to a junkyard or salvage yard in Philly.
However, there are junk car removal services that will help you get a title for your car without you having to take a trip to the local PA DMV office. You will need other proof of ownership such as your registration or a bill of sale.
Junk Car Removal Services That May Buy Your Junk Car Without Title
The process of getting a quote and arranging a pickup is quick and easy. You simply call them or get an offer on their website. The below junk car removal services will pay you for your junk car no matter if you have a car title.
Junk car removal companies will tow your car away and pay you for your old, wrecked, non-running car.
Where You Can Get Your Junk Car Removed In Philadelphia, PA
You can have your junk car picked up and you can get paid in check or cash for your junk car in the following Philly, PA zip codes:
19102, 19103, 19104, 19106, 19107, 19109, 19111, 19112, 19114, 19115, 19116, 19118, 19119, 19120, 19121, 19122, 19123, 19124, 19125, 19126, 19127, 19128, 19129, 19130, 19131, 19132, 19133, 19134, 19135, 19136, 19137, 19138, 19139, 19140, 19141, 19142, 19143, 19144, 19145, 19146, 19147, 19148, 19149, 19150, 19151, 19152, 19153, 19154.
How Much Junk or Damaged Cars Worth In Philadelphia
The value of old, damaged, and wrecked cars depend on the condition of the car, the value of its parts, and how the local demand. Your car may be worth a few hundred to a few thousand dollars pending its demand. Get a quote from a few car removal services or salvage yards to be sure you get the most money possible for your unwanted car.
| | | | | |
| --- | --- | --- | --- | --- |
| Make | Model | Year | Zip | Sold For |
| Volvo | S60 | 2005 | 19111 | $ 565 |
| Chevrolet | Impala | 2002 | 19144 | $ 190 |
| Toyota | Corolla | 2005 | 19150 | $ 415 |
| Nissan | Maxima | 2006 | 19150 | $ 640 |
| Kia | Rondo | 2006 | 19132 | $ 340 |
| Honda | Accord | 1999 | 19118 | $ 190 |
| Saturn | Vue | 2007 | 19106 | $ 520 |
| Ford | Explorer | 2001 | 19126 | $ 710 |
| Toyota | Camry | 2005 | 19112 | $ 565 |
| Kia | Forte | 2013 | 19123 | $ 935 |
Junkyards & Cash-For-Car Companies in Philadelphia, Pennsylvania That Buy Junk Cars
We've also highlighted a selection of the junkyards that serve Philadelphia and the surrounding area. This isn't a complete list and just because a company isn't listed here, doesn't mean it's not legitimate.
Areas served include the following neighborhoods of Philadelphia: Blockley, Roxborough, Belmont, Kensington, Moyamensing, Richmond, Bridesburg, Frankford, Germantown, & Manayunk.
Philly Cash for Cars
A major Philadelphia junk car buyer that services the city, along with Bucks County and Montgomery County. You can get an instant quote online or over the phone, and Philly Cash for Cars offers free towing and hassle-free junk car removal.
The company has more than 30 years of combined experience and take most types of vehicle, including trucks, cars, SUVs, and more.
Most of the company's reviews are positive, but we've seen a few complaints from users suggesting that they were quoted one price and then offered another. This is known as a "bait and switch," and it's very common in the industry.
For example, one of the company's reviewers suggests that they were quoted $200, only to be told an excuse about one of the car's parts and given a smaller sum. It can be frustrating if this happens, but there's not much you can do about it. Just remind them what you were offered, refuse to accept anything less, and take your business elsewhere.
It's rare, from what we can see, but on the off-chance that you are given less than you're quoted, just make sure you're prepared to walk away and take your money with you.
Philly Cash For Cars
4921 Cottman Ave
Philadelphia, PA 19135
(215) 791-2422
Essington Avenue Used Car Parts
An auto parts specialist that pays cash for whole cars and serves Philadelphia and surrounding areas. You can't get a quote through the company's website, but you can send an email or make a phone call.
It pays cash for all vehicles and will pick up your car at a time that suits you. Not only is Essington Avenue Used Car Parts a good place to sell your old car for junk, but it also has some affordable used cars on the lot.
There are over 15-acres in total-a lot of land to scour and a lot of cheap cars to peruse.
Essington Avenue Used Auto Parts
6770 Essington Ave
Philadelphia, PA 19153
(215) 492-5700
Miles Towing Service
In addition to its towing services and roadside assistance, Miles Towing Service offers cash for junk cars and serves customers throughout Philadelphia, PA. It takes all cars under 10,000 pounds and you can get a free quote online or through the Miles Towing website.
Opening hours are from 7 AM to midnight from Monday to Friday, 7 AM to 5 PM on Saturday, and it is closed on Sunday. You can them at (215) 783 6919.
Phila Junk Cars
Give Phila Junk Cars a call from 7 AM to 6 PM any day of the week to sell your junk car for cash.
You don't need a title (although it certainly helps) and if you're able to drive the vehicle and drop it off, you'll get $30 more, saving the company a few bucks in towing fees.
Phila Junk Cars
1820 E Sedgley Ave
Philadelphia, PA 19124
(267) 902 6494
Orthodox
A Philly company that offers same-day pick up on junk and damaged cars. You can get a quote over the phone and arrange for the tow truck to come the same day or at a time that suits you.
Orthodox
6801 State Rd.
Philadelphia, PA 19135
(215) 332-3519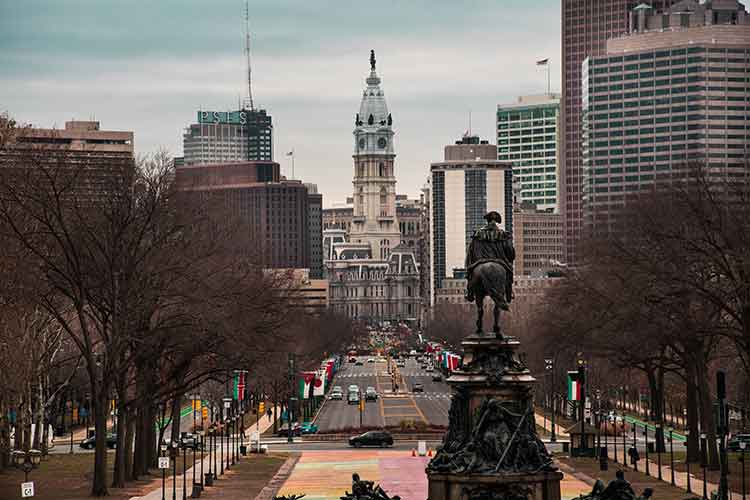 Philadelphia Vehicle Title & Registration Services
The below services in Philadelphia can assist you with vehicle title, tag and registration needs necessary to sell your car.
Frank Van's Auto Tags and Title Transfer
2450 Cottman Ave,
Philadelphia, PA 19149
(215) 624-6644
Instant Auto Tags PA
4651 Frankford Ave,
Philadelphia, PA 19124
(215) 774-1332
Alex Auto Tag
811 S Broad St,
Philadelphia, PA 19147
(215) 790-0203
Phila Auto Tag
9865 Bustleton Ave,
Philadelphia, PA 19115
(215) 941-6504
Fishtown Auto Tags
2401 E York St,
Philadelphia, PA 19125
(215) 240-1565
Donate Your Car in Philadelphia PA
The following non-profits would be happy to talk to you about donating your car.
Car Donation (In Columbus Commons)
2250 S Christopher Columbus Blvd,
Philadelphia, PA 19148
(267) 857-2944
Make-A-Wish Car Donation
1800 John F Kennedy Blvd #300,
Philadelphia, PA 19103
(855) 344-9474
Philadelphia Car Donations (In The Crafts House)
51 N 3rd St, Philadelphia, PA 19106
(888) 524-7990
Vehicles For Veterans
1700 Market St #1005,
Philadelphia, PA 19103
Goodwill Car Donations
5135 Bleigh Ave,
Philadelphia, PA 19136
(866) 233-8586
Resources for Philly Residents
How To Junk Your Car In Pennsylvania
You can learn more about what you need to junk your car in Pennsylvania here.