CashForYourJunkCar.org is an independent publisher. You will find affiliate links which means we may earn a commission if you purchase through these links. It doesn't cost you anything & it helps us keep the site running.
There are a number of junk car buyers, car removal services and non-profits in Seattle, Washington, who would be happy to take your junk car off your hands.
These services will pay you for your unwanted cars, trucks, and bikes. If you have a hunk of scrap metal to unload in Seattle, this is the guide for you.
Locations served include the following communities that neighbor Seattle: Kirkland, Redmond, Bellevue, Bothell, Sammamish, Kent, and Federal Way. Kirkland, Redmond, Bellevue, Bothell, Sammamish, Kent, and Federal Way.
Where You Can Get Your Junk Car Removed In Seattle, WA
You can sell your junk car for cash in Seattle, WA regardless of its condition in the following zip codes:
98103, 98104, 98105, 98106, 98107, 98108, 98109, 98112, 98115, 98116, 98117, 98118, 98119, 98121, 98122.
How Much Can You Get For Your Junk Car in Seattle, WA
How much you sell your junk car for will depend on the condition and the market value of your car. Here are a few recent junk car sales to give you and idea of how much you can get for your junk car.
| | | | | | | | |
| --- | --- | --- | --- | --- | --- | --- | --- |
| Offer | Year | Make | Model | City | St. | County | Zip |
| $1,400 | 2006 | Toyota | Prius | Seattle | WA | King | 98146 |
| $240 | 1999 | Dodge | Intrepid | Seattle | WA | Pierce | 98406 |
| $425 | 2004 | Buick | Rendezvous | Seattle | WA | Pierce | 98407 |
| $300 | 2000 | Audi | A6 | Seattle | WA | Clark | 98604 |
Junk Car Removal Services That Buy Cars In Seattle, WA
Junk car removal companies that serve Seattle, WA.
Junkyards & Salvage Yards That Buy Junk Cars In Seattle, WA
Whether you're selling a beaten-up truck, a nearly new SUV, or a water-damaged car, the first step is to find the right company, call for a quote, and arrange a pick up at a time that works for you to remove your car or truck.
Just remember that you are under no obligation to accept the quotes that you receive. Get as many of them as you can, accept the best one, and make sure you're getting cash for your vehicle.
Absolute German Autowrecking
A Seattle-based company that buys cars and sells auto parts. It specializes in German-made cars, so if you have a German junk car or car parts, give them a call and get a quote. Don't assume that they will provide you with a better price than other junk car buyers just because they specialize in your make, but make sure you include them in your search as there's a good chance they will.
Address: 9510 14th Ave S, Seattle, WA 98108
Phone: 1-206-782-6410
Cash For Cars Seattle
A cars for cash company that operates a hassle-free service for car sellers in Seattle. Phone up for a quote and get a cash offer for your unwanted vehicle.
Address: 1200 Westlake Ave N #1006, Seattle, WA 98109
Phone: 1-956-723-9379
Cash For Junk Cars Seattle
A cash offer is always just a phone call away, and with a company like Cash for Junk Cars, you can always rely on a fast and hassle-free process.
Address: 1808 S 118th St, Seattle, WA 98168
Phone: 1-206-946-8590
King Auto Wrecking
A junkyard that deals in scrap metal and car parts, with great prices and top customer service available.
Address: 2411 6th Ave S, Seattle, WA 98134
Phone: 1-206-767-5044
Aurora Auto Wrecking Inc
We've included this cars for cash company because it was well received and has earned a few good reviews in its time. However, it seems to be closed right now. We're not sure if the closure is temporary or not, but it's worth keeping an eye on proceedings to see if it opens its doors again any time soon.
Address: 9217 Aurora Ave N, Seattle, WA 98103
Phone: 1-206-524-8700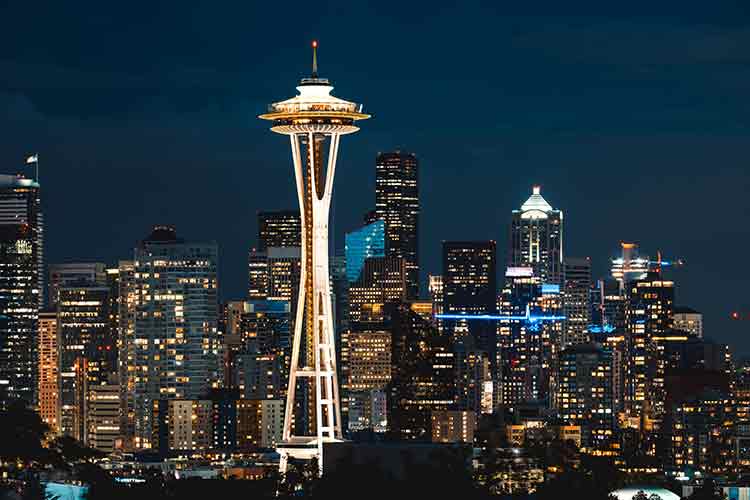 Vehicle Title & Registration in Seattle, WA
The below DMV offices and 3rd party services in the Seattle area can help if you need to replace a lost or stolen title, or transfer ownership of your car in preparation of selling it.
King Co Records & Licensing Services
500 Fourth Ave Ste 401
Seattle, WA 98104-2393
(206) 477-4000
Georgetown License Agency
5963 Corson Ave S #162
Seattle, WA 98108
(206) 767-7782
Donate Your Car in Seattle, WA
We put together this list of non-profits for drivers who want to know where to donate their cars in the Seattle, Washington area. Remember to ask for a receipt for a tax deduction.
Make-A-Wish Car Donation
701 5th Ave,
Seattle, WA 98104
(855) 701-9474
Vehicles For Veterans
1200 Westlake Ave N #1006,
Seattle, WA 98109
(855) 811-4838
Car Donation
1753 15th Ave S,
Seattle, WA 98144
(253) 242-3817
Car Donation Seattle
No street address provided
(206) 809-9311
Resources for Seattle, WA Residents
How To Junk A Car In Washington
Are you not sure of all the paperwork and ways you can sell your junk car? Read our guide to find out more about how to get rid of your junk car in Washington.