CashForYourJunkCar.org is an independent publisher. You will find affiliate links which means we may earn a commission if you purchase through these links. It doesn't cost you anything & it helps us keep the site running.
There are roughly 2 cars per household in Austin, Texas, and over 400,000 households. That adds up to a lot of vehicles and has created a very lucrative auto salvage industry. In this guide, we'll look at the biggest and best salvage yards in this city and show you how to get top dollar for your unwanted vehicle.
Any company you talk to should be willing to remove your car and tow it away at no cost to you. They make money on your junked car and so should you.
We help you sell or donate your junk cars in the following communities in the greater Austin area: San Marcos, Round Rock, Georgetown, Marble Falls, Burnet, Rockdale, Bastrop, and Round Top, Texas.
Where You Can Get Your Junk Car Removed In Austin, TX
You can sell your junk car to a junkyard or a junk car removal company in Austin, TX including the following zip codes:
78745, 78746, 78747, 78748, 78749, 78750, 78751, 78752, 78753, 78754, 78756, 78757, 78758, 78759.
How Much Can You Get For Your Junk Car in Austin, TX
The mark, model, year, and condition of your car will determine if you sell your car for parts or at auction. Here is how much other have been paid for their junk car in Austin, Texas.
| | | | | |
| --- | --- | --- | --- | --- |
| Make | Model | Year | Zip | Sold For |
| Audi | A4 | 2000 | 78746 | $ 725 |
| Toyota | Corolla | 2008 | 78748 | $ 625 |
| Nissan | Altima | 2005 | 78750 | $ 295 |
| Ford | Focus | 1999 | 78752 | $ 205 |
| Ford | Escape | 2008 | 78759 | $ 1,325 |
| Dodge | Charger | 2007 | 78757 | $ 290 |
| Ford | F150 | 2005 | 78752 | $ 185 |
| Chevrolet | Geo Prizm | 1996 | 78756 | $ 365 |
| Chrysler | 300 | 2004 | 78748 | $ 350 |
Junk Car Removal Services That Buy Cars In Austin, TX
Junk car removal companies that serve Austin, TX.
Junkyards That Buy Junk Cars in Austin, TX
You have a few different options for selling old cars in the Austin area, and we have listed some of the best options below.
LKQ
Address: 11011 Bluff Bend D, Austin, TX 78753
Phone: 1-512-491-8939
Big 4 Auto Parts
Address: 220 Ralph Ablanedo Dr, Austin, TX 78748
Phone: 1-512-961-3159
Aaron's Auto Parts
Address: 8409 S Congress Ave, Austin, TX 78745
Phone: 1-512-282-1715
LKQ Pick Your Part – Austin
Address: 7900 S. Congress Avenue, Austin, TX 78745
Phone: 1-800-962-2277
Guide to Selling Your Junk Car in Austin, Texas
If you have an old, battered, and rundown car to sell but you're not sure how just take a look at the following steps:
Check the Value
Don't immediately assume that your car needs to be scrapped. If it's operating, you can sell it directly and get much more money than you would from a junkyard. You even have a few different options for selling your vehicle, including sites like Autotrader.
If you determine that a scrap yard is your best bet, you should run a few searches to make sure you understand how much it is worth. A general idea will do and will help you get the best price for your vehicle.
Get the Title
The law requires you to hand over the title, so you will need to dig this out before you can sell your car to a scrap dealer. You will also need some other basic information to hand, including details about the car's make and model, as well as info on the current damage and state of the engine.
Look for Reputable Junkyards
Junkyards aren't like online retailers in the sense that they don't have much of an online presence. However, if they have a history of underpaying or scamming their customers, you can usually find evidence of this with a simple online search.
Scammed customers tend to talk about their experiences. They file complaints, write bad reviews, and complain in Facebook groups, on Twitter, and in Google reviews. A simple search should uncover these experiences and tell you what you need to know.
Shop Around
When you buy a car, you don't accept the first price you're offered and you rarely go with the first dealer that you find. You shop around, find better quotes, and try to get the best price that you can, and you need to do the same when salvaging your vehicle.
Get multiple quotes from different junkyards and choose the one that offers you the best price and the most complete and convenient service.
Arrange a Time
Once you agree to a price, the only thing left to do is arrange a pickup. Most dealers offer a free towing service. You just need to schedule a time that suits you and they will send a tow truck and hand over the cash on arrival.
Contact the Texas DMV
Once the money has changed hands and your car has been scrapped, you will need to notify the Department of Motor Vehicles (DMV) about the sale.
The phrase, "You need to contact the DMV" instills fear in even the most patient of drivers, but you don't need to worry as the process is usually quick and painless and can be completed online or over the phone.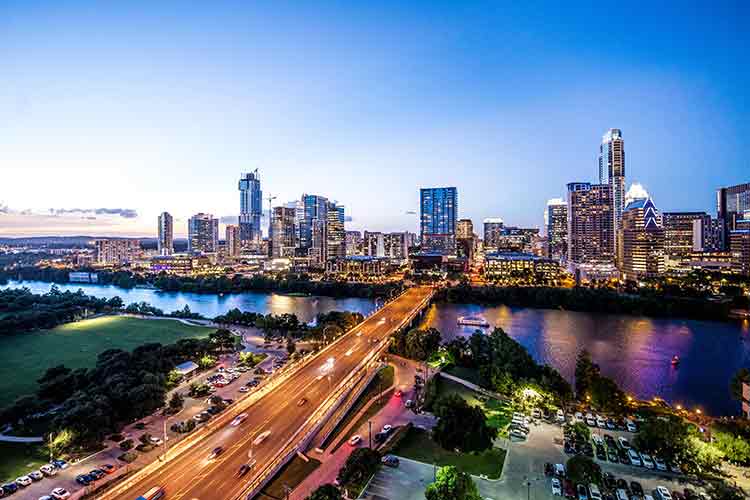 Vehicle Title & Registration Services in Austin, Texas
The following government office locations and 3rd-party services can assist you with your title and registration needs when it comes time to sell your vehicle. Be sure you have the right paperwork for when it comes to having your car removed from the premises.
Fry Auto Title
3005 S Lamar Blvd suite b-105a,
Austin, TX 78704
(512) 443-4885
TxDMV Austin Regional Service Center
1001 E Parmer Ln A,
Austin, TX 78753
(512) 719-6900
Auto Title Services of Oak Hill
5611 W US Hwy 290 Service Rd,
Austin, TX 78735
(512) 892-4114
Travis County Tax Office – Main
5501 Airport Blvd,
Austin, TX 78751
(512) 854-9473
Donate Your Junk Car In Austin, TX
Do good and get a tax refund when you donate your car. No matter the condition, you can call a non-profit in Austin, TX to see if they will accept your running, junk or otherwise damaged car.
Make-A-Wish Car Donation
106 E 6th St #900,
Austin, TX 78701
(855) 770-9474
Donate a Car 2 Charity Austin
Located in: All American Recycling
9202 FM812 Suite 5,
Austin, TX 78719
(512) 546-7435
Habitat for Humanity Car Donations
500 W Ben White Blvd,
Austin, TX 78704
(877) 277-4344
Austin Car Donation
8603 Cullen Ln,
Austin, TX 78748
(512) 803-3205
Disabled Vets Car Donation
111 Congress Ave #400,
Austin, TX 78701
(855) 811-4838
Resources for Austin, Texas Residents
How To Junk A Car In Texas
Need more information about junking a car in Texas? See our guide: How To Junk a Car in Texas.