CashForYourJunkCar.org is an independent publisher. You will find affiliate links which means we may earn a commission if you purchase through these links. It doesn't cost you anything & it helps us keep the site running.
Welcome to the capital of the United States! Washington D.C. is known for many things, but junking a car might not be on your list of facts to know. No worries! You came to the right place. If you're ready to become a car-junking guru, continue reading to learn how to junk your car in Washington D.C.
Locations near DC where we can help sell or donate your damaged or totaled car or truck include: Alexandria, Arlington, and Annandale in Virginia. We also cover of Rockville, Bowie, Bethesda, and as far east as Annapolis in Maryland.
How Do I Sell My Car to a Junkyard in Washington D.C.?
Selling your car to a Washington D.C. junkyard can be a piece of cake if you follow these instructions and use the following tips. The good news in this situation is that junkyards don't care about your car's current condition. Although you will be asked questions about the car's condition and damages the car may have, you won't be rejected because your car doesn't run or has damages, even if there is extensive damage.
First things first. You need to find a local junkyard. Head to your search engine, you can use any search engine, such as Google, Bing, Yahoo, or any other search engine, and type the phrase "junkyards near me" or a similar phrase, and hit the "enter" or "return" key. After doing so, you will be provided with a list of junkyards in Washington D.C. that are in your area.
Next, you need to choose two to three junkyards. Why? You never know if you'll see something that doesn't sit well with you, so you need at least two junkyard choices just in case one junkyard company doesn't work out for whatever reason. After you choose your junkyards, you can start the junking process.
You will be required to provide specific information about the car you are junking, such as its vehicle identification number (VIN), damages, make, year, model, and other information. After you provide the necessary information, you will receive your quote. Keep in mind that you won't become an instant millionaire from junking your car. However, you will receive some cash to keep your wallet company.
Once you receive your quote, you can accept or decline it. If you decline the quote, you are not obligated to junk your car with that particular junkyard, and you can check out a different junkyard. This is where your list of junkyards comes in handy. However, if you accept the junk car quote, you are accepting the junkyard's payment terms as well as any other terms and conditions.
Washington D.C. Junk Car Removal Areas
Junk car removal services will tow your vehicle away in the following D.C. sample of zip codes:
20011, 20002, 20019, 20020, 20009, 20001, 20032, 20003, 20016, 20010, 20007, 20008, 20017, 20018, 20012, 20015, 20037, 20005, 20024, 20036, 20006, 20059, 20052, 20004, 20319.
Junk Car Removal Companies That Serve The DC Area
Any of the below companies would be happy to give you a quote for your junk car in Washington DC with or without a title. These companies work with a network of towing companies across the company. Their goal is to be able to pay you as much as possible based on market demand.
How Much You Can Sell Your Junk Car For In Washington DC
Every make and model will be valued differently based on the age of the vehicle, the condition, and the market demand. Get a free offer to get a price for your vehicle.
| | | | | |
| --- | --- | --- | --- | --- |
| Make | Model | Year | Zip | Sold For |
| BMW | X5 | 2001 | 20010 | $ 415 |
| Chevrolet | Suburban | 2003 | 20015 | $ 340 |
| Ford | Explorer | 2001 | 20037 | $ 240 |
| Cadillac | DTS | 2005 | 20052 | $ 540 |
| Honda | Accord | 2004 | 20004 | $ 290 |
| Volkswagen | Jetta | 2009 | 20319 | $ 415 |
| Toyota | Tacoma | 2002 | 20373 | $ 840 |
| Volvo | S60 | 2011 | 20515 | $ 740 |
| Jeep | Grand Cherokee | 2014 | 20240 | $ 5,490 |
| Lexus | IS 250 | 2007 | 20250 | $ 840 |
How To Get Rid of a Junk Car in Washington D.C.
Getting rid of your junk car in Washington D.C. is as simple and quick as opening the internet tab on your phone, laptop, or another electronic device that has internet access. After you find a local junkyard, tell them about your vehicle and provide information about yourself, and you're done!
Cash for Junk Car Services in Washington D.C.
The following services provide free quotes and junk car removal in Washington D.C. Just call the phone numbers listed to receive a free quote and arrange for a pick up at a time that suits you.
Karville
Karville pays cash for all vehicles in Washington D.C. and surrounding areas. It takes cars, trucks, trailers, buses, and vans that are at or near the end of their life.
Address: 801 E Gude Dr, Rockville, MD 20850
Phone: (833) 417-8136
Problem Cars Wanted
You can contact this junk car buyer any time of the day to get a free quote and arrange for them to pick up your junk car. You'll get top-quality service and a great price, and the company also provides towing services throughout the Washington D.C area.
Address: 12209 Village Sq Ter, Rockville, MD 20852
Phone: (301) 906-0454
Punk Your Junk DMV
Claims to offer up to $1,000 in cash for junk cars, with a service area that covers all of Washington D.C. This junk car removal service doesn't list any details concerning its opening times, but if you have a junk vehicle to sell, we recommend contacting them during business hours to see what they can offer you.
Address: 1405 14th St Washington DC, CA 20011 Logan Circle, Downtown
Phone: (202) 341-7423
Etchison Holding (Cash for Cars)
A cash for junk cars service that is open 24 hours a day, 7 days a week.
Address: Baltimore, MD 21225
Phone: (443) 449-8814
Donate Your Car in DC
Washington DC is home to many non-profit organizations, many of which have an office or are headquartered in DC. Call your favorite charity to see if they accept junk cars as donations. Many will. They will accept your car and sell it for parts or repurpose it in other ways to fund the organization. You will walk away with a receipt that you can submit with your taxes for a deduction.
Goodwill Car Donations
1905 Brentwood Rd NE #301,
Washington, DC 20018
(866) 233-8586
Wheels For Wishes Car Donation
20 F St NW,
Washington, DC 20004
(855) 219-9474
Donate Cars DC
1400 16th St NW #1880,
Washington, DC 20036
(202) 335-5998
Vietnam Veterans Car Donation
1905 Brentwood Rd NE,
Washington, DC 20018
(800) 435-7838
CARE Car Donations
1100 17th St NW Suite 900,
Washington, DC 20036
(888) 755-5452
Do You Need a Vehicle Title to Junk a Car in Washington D.C.?
Yes, you need the car's title to junk it in Washington D.C. However, if you have misplaced the car's title, you can request a duplicate car title by completing a Certificate of Title/Temporary Tag Application (Form DMV-CTA-001).
A lot of Washington D.C. junkyards will require the car's title, but some junkyards won't. If you can't get a duplicate car title, you may be able to submit a different proof of ownership form. Check with the junkyard you plan on using to learn about the documents they accept to junk a car.
DC DMV Vehicle Title & Registration Services
Your local DC DMV office can help you with any title transfer needs you may have when it comes time to sell your car or truck.
Adjudication Services
955 L'Enfant Plaza, SW
Promenade Level – Suite P100
Washington, DC 20024
Benning Ridge Service Center
4525 Benning Road, SE
Washington, DC 20019
Georgetown Service Center
3270 M Street, NW
Canal Level – Suite C200
Washington, DC 20007
Southwest Service Center
95 M Street, SW
Washington, DC 20024
How Much Does It Cost to Junk a Car in Washington D.C.?
The fees to junk a car in Washington D.C. depend on the services you may require to junk your car. Initially, most junkyards don't charge a fee to junk your car. On the other hand, if the car doesn't function, it will need to be towed to the junkyard. If your car needs to be towed, the junkyard may charge a towing fee. However, all junkyards don't charge a towing fee.
What is a Junk Title in Washington D.C.?
A junk title is a label that is given to cars that no longer have value. In most situations, an insurance company will deem a car as "junk" when the car's damage exceeds its total value. Cars that have a junk title can't legally be driven on roads or highways. These cars also can't be registered for road use or sold for use. However, junk cars can be properly disposed of by junking or scrapping them.
Can You Junk a Car With an Expired Registration in Washington D.C.?
Junking a car with an expired registration isn't a "no" from junkyards, so don't worry. As long as you have proof of ownership documentation, you're good to go. In Washington D.C., you can't leave a car that is NOT registered in public places, such as shopping center parking lots, on the side of the road, or the side of the highway. Leaving an unregistered vehicle in a public place is a great way to get fines and penalties. It's a good idea to junk the car as soon as your insurance company deems it "junk".
How Do I Get a Junk Vehicle Title in Washington D.C.?
Getting a junk car title in Washington D.C. isn't the headache you may think it is. You must provide the following:
The car's VIN (vehicle identification number)
Your address (if the car needs to be towed)
Phone number and address
Email address
A clear photo of the vehicle
A clear photo of the car's VIN
Certificate of Destruction
Depending on the city you live in, in Washington D.C., you may be asked to provide more or fewer documents. You may also be required to submit different documents if you are completing the junking process online.
What Paperwork Do I Need to Scrap a Car?
When you're ready to junk your car in Washington D.C., you need to make sure you complete or submit the necessary documentation to your county's Department of Motor Vehicles. The required paperwork to scrap a car in Washington D.C. is as follows:
The Washington D.C. Certificate of Title (properly endorsed for transfer)
Lien sale documents (properly executed for registration and transfer)
A salvage certificate (properly endorsed for transfer)
If you have lost or misplaced your vehicle's registration, you will be required to provide a bill of sale. The vehicle's bill of sale may be able to be used instead of vehicle title signatures.
Can You Sell a Car With a Salvage Vehicle Title in Washington D.C.?
Selling a car that has a salvage title is not illegal, but it can make some car buyers weary, which is why you must disclose the car's imperfections and other damages upfront. You also have the option of repairing the car and getting it inspected to be deemed safe to drive on the roads and highways of Washington D.C. If the car passes the required tests, you can obtain a rebuilt car title. You still need to disclose the car's damages and the repairs you made. Make sure you keep a receipt of the parts you purchased. A lot of mechanics will purchase a car that has a salvage title to rebuild the car themselves.
Does the DC DMV Buy Old Cars?
The Washington DC DMV doesn't buy old cars, but there are different things you can do if you want to get rid of your car. Regardless of the car's age, you can junk it or take it to a salvage yard for parts. It's a way for you to put a little cash in your wallet. However, if your car is an older model car (at least 10 years old), and in overall good condition, you could have an antique on your hands! If you still want to get rid of the car, you may want to consider selling your antique car to someone. You'd be surprised at how many people are interested in antique cars!
Can I Scrap My Car Without a Registration Document?
If a junkyard asks you to submit a vehicle registration to get rid of your junk car, and you have lost or misplaced this document, you will need to find a junkyard that junks vehicles for free or at a low cost to recycle them or turn them into useful building materials, such as steel or bricks.
Can I Scrap a Car That Is Not Registered In My Name?
No. There are no two ways about that. You need to provide some type of proof of ownership before you can junk or scrap your car. Presenting a bill of sale or proof of an active insurance policy is not considered proper proof of ownership documentation. Cash and bribery will not work either, just in case, your mind started to wander.
Proof of vehicle ownership is essential and required by junkyards because they must notify the Washington D.C. DMV whenever a vehicle is destroyed. Junkyards are also responsible for reporting the source of the vehicle and any information that is available regarding the person who brought them the vehicle.
Can I Scrap a Car Without a Vehicle Title?
Scrapping a car in DC without the car's title may not be impossible, but you need to be prepared to receive less money than you expected because the junkyard must pay the fee to transfer ownership of the vehicle.
What Do You Need to Junk a Car in DC?
If you decide to junk or dismantle your vehicle in Washington DC, you must visit your local DC DMV office and present the vehicle's:
Certificate of Title, which must be either:

Endorsed for transfer of ownership to you
You may also be required to pay additional fees if the vehicle is not currently registered or designated for a planned non-operation status (deemed junk or currently possess a junk car title). You can contact your local DC DMV office for more information.
How Old Does a Car Have to be to Not Require a Vehicle Title in DC?
Almost all vehicles in Washington DC are required to have a vehicle title. However, there are certain types of vehicles that do not require a vehicle title. These vehicles are:
Disaster relief vehicles
Fire fighting equipment (fire trucks, fire engines, etc.)
Golf carts
Forklift trucks
Hauled vehicles
Miniature motorcycles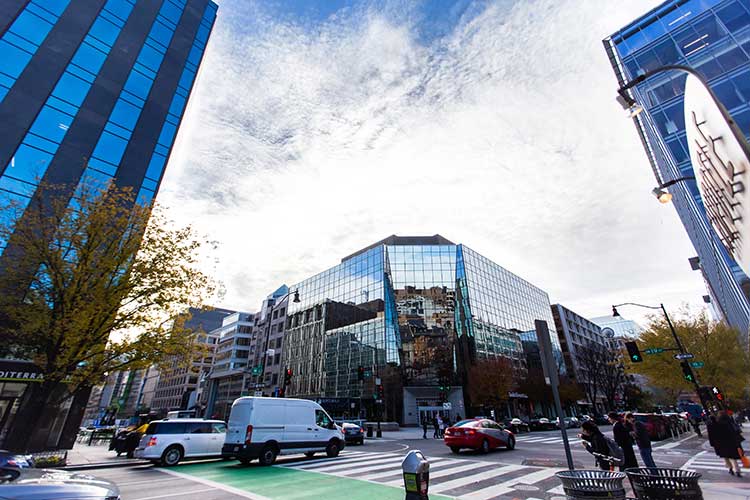 How Do You Junk a Car in Washington DC?
Junking a car in Washington DC doesn't have to be difficult and forever-taking. You can junk your vehicle on your own by taking your vehicle to your local DC junkyard or have your junk vehicle towed to a junkyard in Washington DC. Some junkyards charge a towing fee, so plan to be able to pay these fees before you initiate the junking process. Either method you choose to junk your car, make sure you have the necessary paperwork and payment for any applicable fees.
Current Scrap Metal Prices in Washington DC?
Well, it may be safe to say that you don't have the current scrap metal prices in Washington DC in your back pocket. It is good to know what prices per pound a scrap yard or scrap metal recycling company in DC is paying before you visit one. Below are the standard prices you need to know about in Washington DC.
Copper (Clean) – $4.12 – $5.07
Aluminum – $0.19 – $1.01
Cans – $0.06 – $0.10
Clean Brass – $2.47 – $3.30
Lead – $0.57 – $0.91
Stainless Steel – $0.82 – $1.24
Steel Radiators – $1.24 – $2.88
Washington DC Junkyard Locations
There aren't any junkyard locations in Washington DC. However, we've created a list of different junkyards that are near Washington DC. Check out our list and see if you can find a junkyard location near you.
Andy's Auto Parts
4551 Tanglewood Dr
Bladensburg, MD 20710
(301) 277-7100
Monday – Friday (8 AM – 5 PM)
Saturday and Sunday ( 9 AM – 3 PM)
Chuck's Used Auto Parts
4743 Clifton Rd
Marlow Heights, MD 20748
(301) 423-0007
Monday – Friday (8 AM – 5 PM)
Saturday and Sunday (Closed)
Beltway Used Auto Parts LLC?
2421 Kenilworth Ave
Hyattsville, MD 20781
(301) 772-0003
Monday – Friday (8 AM – 5 PM)
Saturday (9 AM – 3 PM)
Sunday (Closed)
Look at you! You're now the car-junking guru of Washington DC. Now that you know the ins and outs of junking your car in Washington DC, you can successfully junk your vehicle with confidence. Happy junking!