CashForYourJunkCar.org is an independent publisher. You will find affiliate links which means we may earn a commission if you purchase through these links. It doesn't cost you anything & it helps us keep the site running.
Do you have an old and rusty car sitting on your lawn? Has it been there so long that it's practically becoming part of the scenery? It's time to get rid of it, and the same goes for any SUVs, trucks, and motorbikes that have suffered from accident or water damage and are just taking up space.
We can help sell or donate your car or pick up in the following locations near Miami which include: Homestead, Key Largo, Boca Raton, Boynton Beach and West Palm Beach. We also buy cars as far south as Key West, FL.
Where You Can Sell Your Junk Car In Miami, Florida
Sell your junk, damaged or non-running vehicle in Miami, FL in the following locations:
33101, 33109, 33125, 33126, 33127, 33128, 33129, 33130, 33131, 33132, 33133, 33134, 33135, 33136, 33137.
How Much Can You Sell Your Junk Car For In Miami, Florida?
| | | | | |
| --- | --- | --- | --- | --- |
| Make | Model | Year | Zip | Sold For |
| Toyota | Rav4 | 1997 | 33130 | $ 335 |
| Nissan | Armada | 2002 | 33126 | $ 685 |
| Infiniti | M45 | 2004 | 33109 | $ 435 |
| Chrysler | Sebring | 2008 | 33132 | $ 355 |
| Nissan | Maxima | 2005 | 33128 | $ 635 |
| Nissan | Altima | 2009 | 33101 | $ 335 |
| Lincoln | Town Car | 2002 | 33101 | $ 340 |
| Toyota | Camry | 2011 | 33128 | $ 845 |
Junk Car Removal Services That Buy Cars In Miami, FL
Junk car removal companies will tow your car away and pay you for your old, wrecked, non-running car.
Junkyards & Salvage Yards That Buy Junk Cars in Miami, FL
There are over a dozen different junk car buyers and removal services in Fort Lauderdale and Miami, Florida. These companies cater to a huge number of residents and process countless cars every month, and while there is strong competition between them, they don't have time for customers who try to play one junkyard against another.
By all means, contact a few different companies. It's actually recommended. But don't think that you can take one quote and use it to get a better price elsewhere, as that's not really how cash for junk car companies work.
Best Used Auto Parts
Address: 7225 NW 84th Ave, Medley, FL 33166
Phone: 1-305-592-9493
Brickell Honda Parts
Address: 690 SW 8th St, Miami, FL 33130
Phone: 1-305-856-3000
Barbara Used Auto Parts
Address: 4605 NW 37th Ave, Miami, FL 33142
Phone: 1-305-633-1822
American Scrap Metal Alloy
Address: 824 NW 9th Ave, Fort Lauderdale, FL 33311
Phone: 1-954-764-6716
Bud's Auto Parts
Address: 3550 NW S River Dr, Miami, FL 33142
Phone: 1-305-634-1568
Cash For Cars Miami
Address: 815 NW 57th Ave Suite 5480, Miami, FL 33126
Phone: 1-561-314-6310
Cash for Junk Car Fort Lauderdale
Address: 1701 NW 22nd St, Fort Lauderdale, FL 33311
Phone: 1-954-256-2451
Junk Car Dog Cash For Cars
Address: 746B NW 5th Ave, Fort Lauderdale, FL 33311
Phone: 1-954-372-8572
Who Buys Junk Cars in Miami and Fort Lauderdale?
As you can see, there are a number of companies that buy junk cars in these locations. We recommend looking for a couple of junkyards near to you, give them a call, get a quote, and make a note of what they tell you.
Once you have that information, you can contact some companies a little further out of the way and see what they offer. They might reduce the quote a little to account for the extra distance that the tow truck will travel, but it shouldn't make a big difference.
If you're able to skip the tow truck altogether and go directly to the junkyard yourself, you should get an even better price.
It's always best to go directly to the junkyards, as opposed to working through a middleman. You'll get more money, and you won't need to jump through too many hoops. Just give them the information they ask for, provide them with the documents they request, and take their money. That's all there is to it!
Can I Junk a Car Without a Title in Florida?
It is possible to sell junk cars in Fort Lauderdale, Florida without a title, but you will need to file a Derelict Motor Vehicle Certificate. If you're not sure about the process, just ask the junkyard. They deal with hundreds of customers every week and they have dealt with every possible car and every possible scenario, so they'll have the answers that you seek.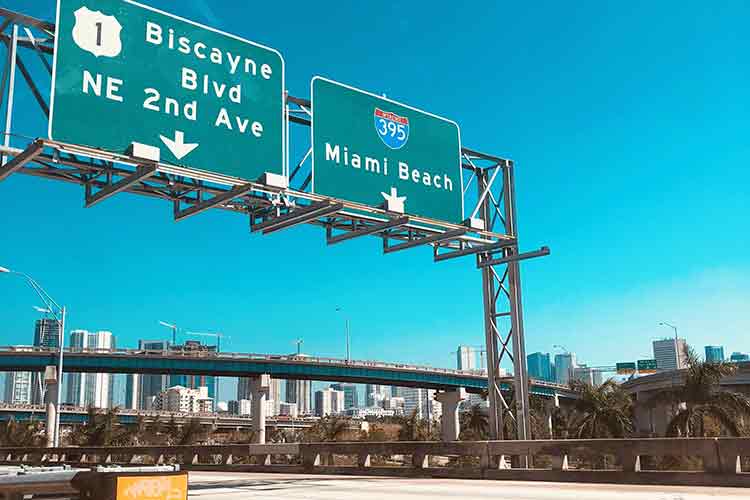 Vehicle Title & Registration Services in Miami
The below Florida DMV / Florida Highway Safety and Motor Vehicles offices can assist you with your title and registration needs when it comes time to sell your vehicle if need be.
Miami DMV
18655 S. Dixie Highway
Miami, FL 33157
305-252-1001
Miami DMV
2621 NW 54th St.
Miami, FL 33142
305-633-1115
Coral Gables DMV
1418 Ponce de Leon Blvd.
Coral Gables, FL 33134
305-444-1138
Homestead DMV
30708 S. Federal Highway
Homestead, FL 33030
305-247-2731
Miami DMV
11287 S. Dixie Highway
Miami, FL 33156
305-235-8901
Donate Your Car In Miami, Florida
Non-profits frequently accept cars in all conditions. Consider donating your junk car as an alternative to selling it to a junk yard.
Make-A-Wish Car Donation
141 NE 3rd Ave 8th Floor, Miami, FL 33132
(877) 709-9474
Vehicles For Veterans
Located in: LUXESTREET
14 NE 1st Ave 2nd floor, Miami, FL 33132
(855) 811-4838
Cardy Car Donation
1630 Collins Ave, Miami Beach, FL 33139
(239) 306-5989
Cars To Cure Breast Cancer
111 NE 1st St 3rd floor, Miami, FL 33132
(855) 450-2873
ArfforKids Donating a Car
11858 NW 36th Ave, Miami, FL 33167
(888) 435-7801 ext. 300
Resources for Miami, FL Residents
How To Junk Your Car In Florida
You can learn more about what you need to junk your car in Florida here.