CashForYourJunkCar.org is an independent publisher. You will find affiliate links which means we may earn a commission if you purchase through these links. It doesn't cost you anything & it helps us keep the site running.
You'd be surprised at how many people junk their vehicles in the Prairie State. Some people junk their cars because of mechanical failures while other people junk their cars because of expensive repair costs. You may have an old car that you want to get rid of, and junking it is a way to get rid of it and make a few extra bucks.
How Do I Sell My Car to a Junkyard In Illinois?
Selling your car to a junkyard is similar in some ways to selling your car to a person or dealership. There are documents you must complete and submit to ensure you junk your car correctly, so you don't have to worry about additional fees or penalties.
One great thing about selling your car to an Illinois junkyard is your vehicle doesn't have to be brand spanking new and in the best condition. In Illinois, junkyards aren't worried about how old or new your vehicle is and its condition. Did you know that your vehicle doesn't have to be in operational order? It's true! For a fee, some Illinois junkyards will pick up the vehicle for you.
The first thing you need to do to successfully junk your vehicle is search the internet for Illinois junkyards near you. Don't worry about using traditional methods for locating a junkyard. Type the words "find junkyards near me", or a similar phrase, to find junkyards that are in your area.
Be advised that you will be asked to provide different information regarding yourself and your vehicle, such as the vehicle's vehicle identification number (VIN). Once you provide the VIN, the junkyard will want to know if your vehicle is in operational order. If you can drive your vehicle, you may receive more money because you don't have to spend money on towing fees for the junkyard to pick up your vehicle.
After you've entered the required information, you will receive a quote in a matter of minutes. If you're satisfied with the quote, you will need to agree to the payment terms and schedule your vehicle for pickup, if applicable. However, if you don't agree to the terms, feel free to find a different junkyard from the list of junkyards that are in your area.
When it comes to financial matters, junking your vehicle is an excellent way to put a little extra cash in your pocket, but make sure you have realistic expectations. You won't be able to become a millionaire by junking your vehicle, but you will have extra cash in your pocket.
Junk Car Removal Service Locations In Illinois
You can have your broken down or unwanted car towed away in Illinois including the following locations:
Aurora, IL
Joliet, IL
Naperville, IL
Rockford, IL
Elgin, IL
Peoria, IL
Waukegan, IL
Champaign, IL
Junk Car Removal Companies That Buy Junk Cars In Illinois
You can get an offer on your car over the phone or online from one of the following junk car removal companies that serve Illinois.
How Much You Can Sell A Junk Car For In Illinois
How much you can sell your car for can range widely depending on the make, model, year, condition and if your car will be sold for parts or at auction. These cars sold in Illinois will give you an idea of how much your car is worth be it a running or a broken-down vehicle.
| | | | | |
| --- | --- | --- | --- | --- |
| Make | Model | Year | City | Sold For |
| Chevrolet | Impala | 2010 | Chicago, IL | $ 410 |
| Dodge | Magnum | 2006 | Aurora, IL | $ 575 |
| Toyota | Camry | 2010 | Joliet, IL | $ 780 |
| Toyota | Camry | 2000 | Naperville, IL | $ 205 |
| Toyota | Highlander | 2005 | Rockford, IL | $ 975 |
| Ford | Taurus | 2006 | Springfield, IL | $ 350 |
| Lincoln | Continental | 1995 | Elgin, IL | $ 255 |
| Subaru | Forester | 2005 | Peoria, IL | $ 530 |
| Honda | Accord | 1999 | Waukegan, IL | $ 415 |
| Toyota | 4Runner | 2008 | Champaign, IL | $ 1,635 |
How Do I Get Rid of a Junk Car In Illinois?
Ready to get rid of a clunker, lemon, or another type of vehicle? It's a lot easier than you think. You'll be happy to know that you can junk a vehicle without enduring a rigorous process. If you have a computer or smartphone, you made the process easier!
The junkyards in Illinois want to know some information about your vehicle, such as the damage it may have sustained. There are a few forms you will need to complete to junk your vehicle in Illinois, which must be submitted at the time of junking your vehicle. You can find most of the forms you need to junk your car on this site! However, some forms can only be obtained from an Illinois Department of Motor Vehicles (IL DMV).
Do You Need a Vehicle Title to Junk a Car In Illinois?
No. You are not required to have a vehicle title to junk a car in Illinois. However, you need to be prepared to accept lower offers for your vehicle, and it will be more difficult to find a junkyard, but not impossible. If you have your vehicle's title, you can expect to receive $50 to $80 more on your quote. All junkyards, including those in Illinois, require some type of proof of ownership for the vehicle, which doesn't necessarily have to be the car's title, but it would help a lot if you had the title.
How Much Does It Cost to Junk a Car In Illinois?
Guess what? There's no cost to junk a car in Illinois! Even if you need to obtain a junk vehicle title, there's no cost. Keep in mind that you may be required to pay a fee if your car has to be towed to an IL junkyard.
What is a Junk Title In Illinois?
In Illinois, a junk car title is a title that states the vehicle is not in proper working order and can't be driven on the roads and highways of IL. A junk vehicle title deems the car unfit for traveling and can't be registered to use on the road once the title is filed. A junk vehicle doesn't have market value but has parts that are valuable when it is junked or scrapped. Vehicles that have a junk car title can't be sold for use like vehicles that have a traditional vehicle title.
Can You Junk a Car With an Expired Registration In Illinois?
Yes! If your junk car has an expired Illinois registration, no problem. Since your vehicle has an expired registration, the vehicle is not permitted to be left in a public place, such as on the side of the road or in a parking lot. Leaving your unregistered vehicle in public places risks the vehicle being towed, which is money you can avoid spending. Unregistered vehicles are not the same as untitled vehicles.
How Do I Get a Junk Vehicle Title In Illinois?
To receive an Illinois junk vehicle title, if you're applying online, you will need to provide:
Your vehicle's VIN
Your address for the junk vehicle title (if applicable)
Phone number
Photo of your vehicle (sometimes optional)
Email address
Photo of the vehicle's VIN
Certificate of Destruction (or similar documentation)
Keep in mind that you may be required to provide fewer or more documents depending on the city in which you reside in Illinois.
What Paperwork Do I Need to Scrap a Car in Illinois?
Are you ready to scrap your vehicle in the state of Illinois? Great! There are different documents you will need to have to properly scrap your vehicle. The documentation you will need to junk your car in Illinois is as follows:
Affidavit in Lieu of Certificate of Title for a Salvage or Junk Vehicle by a Salvage Dealer (Form VSD 930)
A salvage certificate (must be properly endorsed for transfer) (Form RT-11)
The Illinois Certificate of Title (must be correctly endorsed for transfer)
You must apply for a junk car certificate within 15 days, which you can do before or after transferring your vehicle to a junkyard or dealer. Once you complete this step, you are required to obtain a uniform invoice that shows the business' information that you will submit to the IL DMV. In this part of the junking process, you may be able to use a bill of sale in lieu of vehicle title signatures.
Can You Sell a Car With a Salvage Vehicle Title In Illinois?
Yes. It is not against the law to sell a salvage vehicle to an individual, as long as the vehicle is prepared to be sold. If you have reported your vehicle to the IL DMV as a salvage vehicle, you have the choice of restoring the vehicle or obtaining a salvage vehicle title. Salvage vehicles make cool restoring projects for mechanics.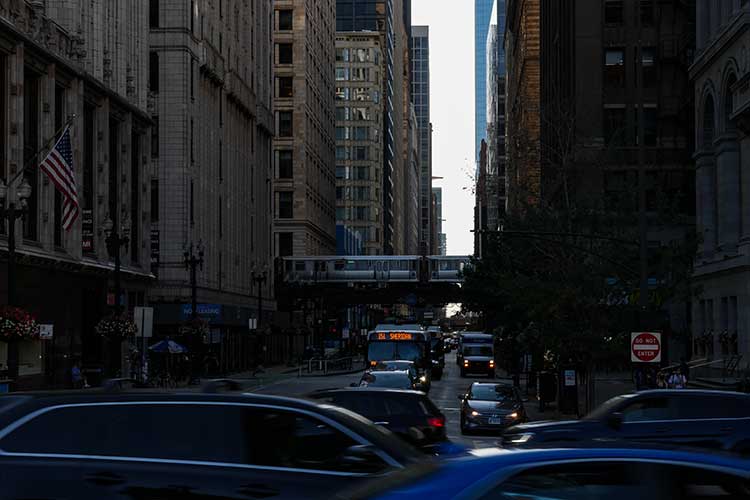 How Do I Get Rid of a Car I Don't Want?
It happens to the best of us. Sometimes the car you have has served you well and served its purpose. Getting rid of a car is simple. You don't have to jump through hoops and do magic tricks to sell your car. If your vehicle remains in operational order, you can sell your vehicle to a junkyard or a person, which is considered a private sale.
Does the Illinois DMV Buy Old Cars?
Although the IL DMV doesn't buy old cars, you still have different options if you want to get rid of an old car. You can sell your car online to an individual or junkyard. Keep in mind that the sentimental value you may have for your car probably won't match the price someone is willing to pay for the vehicle. If you're looking to maximize the amount of money you receive for selling your car to a junkyard, it's a good idea to check the current scrap prices in Illinois.
Can I Scrap My Car Without a Registration Document?
No vehicle registration? Don't stress yourself out about it. You can still scrap your vehicle without its registration. However, it may be difficult to do so. To junk a vehicle without the registration document, find a junkyard that recycles vehicles free of charge or at a low cost.
When your vehicle is recycled, it will be used to create useful building materials, such as bricks, steel, and other beneficial materials. You're also helping the planet!
Can I Scrap a Car That Is Not Registered In My Name?
No. If the vehicle is not registered in your name, you won't be able to junk the car. Illinois junkyards require some type of document that proves you are the legal owner of the vehicle. You need at least 1 document as proof of ownership to junk your vehicle in IL. Proof of vehicle ownership can't be proven with a bill of sale or proof of insurance that's in your name.
Proof of ownership documentation is important in the car junking process because junkyards are responsible for notifying the state of Illinois when they destroy a vehicle. They will also obtain information about you and why you're junking the vehicle, such as extensive vehicle damage, mechanical failure, and similar instances, to report to the state of Illinois.
Can I Scrap a Car Without a Vehicle Title?
You can scrap your vehicle without having its title, but you should be prepared to receive less money than the original payment quote. Why? If you are not in possession of the vehicle's title, the junkyard will have to pay the fees to obtain the title and complete the required process to transfer the title.
What Do You Need to Junk a Car In IL?
The good news is you don't have to spend hours completing different forms to junk your car. In Illinois, if you decide to scrap your vehicle, you can visit your local IL DMV branch and bring the Certificate of Title with you. The title must be in your name or endorsed for proper transfer of ownership of the vehicle. If you don't have the vehicle's title, you will have to find an Illinois junkyard that accepts vehicles without a title. You may be required to pay certain fees to cover the cost of transferring ownership of the vehicle.
You will also need to submit your license plate(s) to ensure you don't continue to pay state fees for the vehicle, such as insurance, taxes, and other fees. Depending on your situation, you may need to pay additional fees if your vehicle is not registered as a non-operational vehicle. Contact your local Illinois DMV branch for the specifics that pertain to your situation.
How Old Does a Car Have to be to Not Require a Vehicle Title in IL?
Like most states, all vehicles in the state of Illinois are required to be titled, except for a few vehicles. The vehicles that are an exception to vehicle titling in Illinois are as follows:
Golf carts
Vehicles that are being hauled
Disaster relief vehicles
Forklift trucks
Fire fighting equipment (fire engines, fire trucks, etc.)
Miniature motorcycles
How Do You Junk a Car In IL?
Junking a vehicle isn't complicated. You can junk your vehicle on your own or take it to an IL junkyard. With both methods of junking, you must have the necessary paperwork completed and submitted to the IL DMV. Depending on your situation, such as property taxes and similar scenarios, you may be required to pay different fees.
Current Scrap Metal Prices in IL?
Recycling your vehicle is a great way to help the planet and create useful materials. Below, you will find the current prices in Illinois for scrapping your vehicle.
Copper (Clean) – $4.12 – $5.07
Aluminum – $0.19 – $1.01
Cans – $0.06 – $0.10
Clean Brass – $2.47 – $3.30
Lead – $0.57 – $0.91
Stainless Steel – $0.82 – $1.24
Steel Radiators – $1.24 – $2.88
Illinois Junkyard Locations
Here are different junkyard locations in the state of Illinois. If you don't see an IL junkyard that is near you, feel free to use the search term listed at the beginning of this article to find a junkyard that is closer to you.
Nevill's Auto Salvage
1836 Groth Street
Springfield, IL 62703
(217) 522-6160
Monday – Friday (8: 30 AM – 5 PM)
Saturday and Sunday (Closed)
Wrecked Cars
3701 N Dirksen Pkwy
Springfield, IL 62707
(217) 525-1028
Monday-Friday (8:30 AM – 5 PM)
Saturday and Sunday (Closed)
I-55 Auto Salvage
22701 S Thomas Dillon Dr.
Channahon, IL 60410
(815) 467-2938
Monday – Friday (8 AM – 5:30 PM)
Saturday (8 AM – 2 PM)
Sunday (Closed)
You are now a car junking expert. Take the information you learned to properly junk your vehicle and make some extra cash. Happy junking!
Popular Cities In Illinois To Junk Your Car