CashForYourJunkCar.org is an independent publisher. You will find affiliate links which means we may earn a commission if you purchase through these links. It doesn't cost you anything & it helps us keep the site running.
Welcome to America's Dairyland, or the Frozen Tundra if you will. Are you considering junking your car? There are a few different things you need to know before you drop your car off at a junkyard. You have questions and we've got answers! Continue reading to learn how to junk your car in Wisconsin.
How Do I Sell My Car to a Junkyard in Wisconsin?
Selling your car to a Wisconsin junkyard doesn't have to ruin your day. You'll need to provide a few documents and you may be required to pay a fee or two, and that's it!
First, you need to find a local Wisconsin junkyard, which is also easy to do. Using your smartphone, laptop, or another electronic device, type the phrase "junkyards in my area" or "junkyards near me" in your search engine's search bar. In seconds, you will have a list of junkyards that are nearby.
Next, you'll need to choose at least 3 junkyards. It's always nice to have options, just in case the other options don't work out for whatever reason. Once you have your 3 junkyards picked out, check out each junkyard's website. Make sure you make note of the junkyard's terms and conditions and junking criteria.
You will be asked questions about the car you want to junk and a few questions about yourself. Don't be afraid to disclose all issues the car has. Junkyards aren't concerned with the car's appearance. So, if your car has a few dents and dings, it's okay. It's important to answer the questions truthfully because your junk car quote is based on the answers you provide.
Junkyards will want to know specific information regarding your car, including the car's vehicle identification number (VIN), the make, year, and model, and any damages. You will also need to provide information about yourself, including your name, phone number, mailing address, and email address. Most of the information you provide is to send you a copy of the quote and a way to contact you if the junkyard has any questions or concerns regarding the car you're junking.
How Do I Get Rid of a Junk Car in Wisconsin?
Getting rid of a junk car in Wisconsin can be as easy as 1, 2, 3, assuming that you have the required paperwork. Even if you don't have the necessary paperwork, junking your car shouldn't take too much time out of your day. Search for a junkyard in your area. Choose a junkyard from the list you're provided. Next, you need to submit the necessary information by answering a few questions. Then you can accept or decline your quote.
If you accept the junk car quote, you are agreeing to the terms and conditions of the junkyard, as well as the payment terms. If you decline the quote for any reason, you are not obligated to junk your car and can choose a different junkyard.
Junk Car Removal Companies That Buy Damaged Vehicles In Wisconsin
How Much You Can Sell Your Junk Car For In Wisconsin
Not all junk cars are equal in value. The value of the junk car you sell will be determined by value of its metal and spare parts.
| | | | | |
| --- | --- | --- | --- | --- |
| Make | Model | Year | City | Sold For |
| Dodge | Avenger | 2012 | Milwaukee, WI | $ 510 |
| BMW | X5 | 2002 | Madison, WI | $ 650 |
| Buick | Enclave | 2011 | Green Bay, WI | $ 365 |
| Chevrolet | Equinox | 2005 | Kenosha, WI | $ 440 |
| Murano | Murano | 2004 | Racine, WI | $ 715 |
| Volkswagen | Jetta | 2005 | Milwaukee, WI | $ 840 |
Where You Can Get Your Junk Car Removed in Wisconsin
You can get your unwanted junk car towed away in all of Wisconsin including:
Green Bay, WI
Kenosha, WI
Racine, WI
Appleton, WI
Waukesha, WI
Eau Claire, WI
Oshkosh, WI
Janesville, WI
Do You Need a Vehicle Title to Junk a Car in Wisconsin?
It's best if you have the car's title when you're ready to junk your car because it's an essential proof of ownership document. However, if you have misplaced the car's title, you can apply for a Replacement Title Application (Form MV2119). Make sure you provide your signature in the designated areas of the car title or the title will be invalid.
Some Wisconsin junkyards may junk your car without its title. However, you must present valid proof of ownership documentation, which can be the car's registration card. Check with the junkyard you plan on using to learn more about the paperwork they require to junk a car.
How Much Does It Cost to Junk a Car in Wisconsin?
The cost to junk your car in Wisconsin depends on the junkyard's fees and the method by which you're junking your car. If your car doesn't run, it will need to be towed. You can have the car towed to the junkyard or have someone from the junkyard come and tow your car. Some junkyards charge a towing fee. If you have roadside service, you may be able to have the car towed yourself and avoid the initial towing fee.
What is a Junk Title in Wisconsin?
A junk car title in the state of Wisconsin is given to cars that no longer have value unless the car is scrapped, and are irreparable because of the damages they sustained. Junk cars can't be registered to be used on the roads or highways of Wisconsin. Junk cars can't be sold for use.
Can You Junk a Car With an Expired Registration in Wisconsin?
Yes, You can junk a car with an expired registration in the state of Wisconsin. However, it is illegal to have an unregistered vehicle in a public place, whether the vehicle is considered junk or not, which means you can't leave your car on the side of the road, highway, or in the parking lot of a shopping center.
How Do I Get a Junk Vehicle Title in Wisconsin?
To receive a Wisconsin junk car title, you need to take the following steps:
Provide the vehicle's VIN
Your address for the junk vehicle title (if applicable)
Phone number
Email address
Photo of your vehicle (may be optional in some Wisconsin cities)
Photo of the vehicle's VIN
Certificate of Destruction or similar documentation
Be advised, that you may be asked to provide more or fewer documents depending on the city in Wisconsin you reside.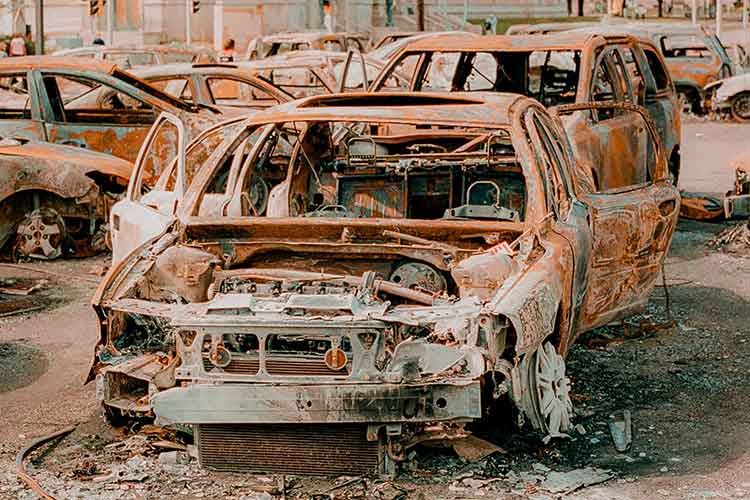 What Paperwork Do I Need to Scrap a Car?
When you scrap a car in Wisconsin, there's different paperwork you need to complete or submit. The required paperwork to scrap a car in Wisconsin is as follows:
The Wisconsin Certificate of Title (properly endorsed for transfer)
Lien sale documents (properly executed for registration and transfer)
A salvage certificate (properly endorsed for transfer)
If you have misplaced your vehicle's registration, you will be required to provide a bill of sale. The vehicle's bill of sale may be able to be used instead of vehicle title signatures.
Can You Sell a Car With a Salvage Vehicle Title in Wisconsin?
You are allowed to sell a car with a salvage title. However, you can sell a salvage car after you repair the car to the state's standards. The state's standards ensure the car functions and is safe to operate on roads and highways. Once you repair the car, you will need to obtain a rebuilt car title. You can also apply for a revived salvage car title. A lot of mechanics will be interested in purchasing a salvage car as a DIY rebuilding project.
How Do I Get Rid of a Car I Don't Want?
Getting rid of a car you don't want isn't rocket science. The good news is, that you can get rid of a vehicle with little to no effort. If your car is a junk vehicle, you can sell it to a junkyard. If your vehicle remains in operational order, you can still choose to sell it to a junkyard or to an individual, as a private sale.
Does the WI DMV Buy Old Cars?
The Wisconsin Department of Motor Vehicles (DMV) doesn't purchase old cars. However, a lot of people would be interested in an older model car, especially if it's an antique. For your car to be considered an antique, it must be at least 25 years old and in overall good condition.
If you have an older model car that has been sitting in your garage for a while, and it needs some repairs, you might consider repairing it, then selling it. However, if your car requires a lot of maintenance and repairs, it may be in your best interest to junk the car.
Can I Scrap My Car Without a Registration Document?
In Wisconsin, you may be able to scrap your car without a registration document. The task of finding a junkyard that will scrap your car without its registration may be a bit daunting, however, not impossible. You can try to find a junkyard that will scrap your car for a small fee to recycle the parts. When you recycle your car, its parts will be used to create useful building materials, including bricks and steel.
Can I Scrap a Car That Is Not Registered In My Name?
Absolutely NOT! It may not seem like a big deal, but you can't junk a car that's not in your name. Why? If the car is not registered in your name, this means you are not the owner of the car. If you don't own the car, you can't legally decide what happens with the car, such as deciding to junk or scrap the car. In this situation, using a bill of sale or proof of an active insurance policy can't be used a proof of ownership document, and just in case you were wondering, cash and bribery aren't a good idea.
Wisconsin junkyards require proof of ownership documentation because they are responsible for notifying the state of Wisconsin whenever they junk or scrap a car. Junkyards are also responsible for reporting the source of the vehicle and any obtainable information pertaining to the person who provided the vehicle to junk.
Can I Scrap a Car Without a Vehicle Title?
Trying to scrap a car without the car's title can be tricky. If you have misplaced the car's title, you can apply for a Replacement Title Application (Form MV2119). Some Wisconsin junkyards may scrap your car without the title, and if this is the case, you can expect to receive less money than you were originally quoted because the scrap yard will need to transfer ownership of the car.
What Do You Need to Junk a Car in WI?
When you're ready to junk your car in the state of Wisconsin you need to visit your local Wisconsin DMV branch and present the:
Certificate of Title, which must be either:

Endorsed for transfer of ownership to you
You may also be required to pay additional fees if the vehicle is not currently registered or designated for a planned non-operation status (obtaining a junk car title). You can contact your local WI DMV office for more information that pertains to your specific situation.
How Old Does a Car Have to be to Not Require a Vehicle Title in Wisconsin?
Most vehicles in WI are required to have a vehicle title. However, there are certain types of vehicles that do not require a vehicle title. These vehicles are:
Disaster relief vehicles
Fire fighting equipment (fire trucks, fire engines, etc.)
Golf carts
Forklift trucks
Hauled vehicles
Miniature motorcycles
Certain RVs and campers
How Do You Junk a Car in Wisconsin?
Junking a car in Wisconsin doesn't have to be an exhausting experience. You can junk your vehicle yourself by towing your vehicle to your local WI junkyard or have the junkyard tow the car for you. Either method you choose, make sure you have the necessary paperwork and payment for any applicable fees. There may also be a towing fee you are responsible for paying.
Current Scrap Metal Prices in Wisconsin?
There's a good chance you haven't worried about the current scrap metal prices in Wisconsin until now. These prices become essential information when you're interested in scrapping your vehicle. We've provided the current scrap metal prices in Wisconsin to help give you a general idea of how much you could receive for scrapping your car. The current scrap metal prices in Wisconsin are as follows:
Copper (Clean) – $4.12 – $5.07
Aluminum – $0.19 – $1.01
Cans – $0.06 – $0.10
Clean Brass – $2.47 – $3.30
Lead – $0.57 – $0.91
Stainless Steel – $0.82 – $1.24
Steel Radiators – $1.24 – $2.88
Wisconsin Junkyard Locations
There are different junkyard locations in the state of Wisconsin, and we've provided some of these locations below. Check out the list below and see if you can find a WI junkyard near you.
Elmer's Auto Salvage
W877 Elmer's Rd
Fountain City, WI 54629
(608) 687-9211
Monday – Friday (8 AM – 5 PM)
Saturday and Sunday (Closed)
Yaeger Auto Salvage, INC
8205 Camp Phillips Rd
Weston, WI 54476
(715) 359-3606
Monday – Friday (8 AM – 5 PM)
Saturday (8 AM – 12 PM)
Sunday (Closed)
Oak Leaf Auto Salvage LLC
4208 Oak Leaf Rd
Rhinelander, WI 54501
(715) 362-9445
Monday – Friday (9 AM – 5 PM)
Saturday and Sunday (Closed)
Your mission is now complete! You're an official car-junking guru of Wisconsin. Now that you know the ins and outs of junking your car in Wisconsin, you can successfully junk your vehicle with confidence and a smile. Happy junking!