CashForYourJunkCar.org is an independent publisher. You will find affiliate links which means we may earn a commission if you purchase through these links. It doesn't cost you anything & it helps us keep the site running.
If you need to sell your scrap car in Madison, WI, this is the guide for you! There are several junk car buyers that pay cash and offer a simple and straightforward process-just what you need when you're desperate to offload an old vehicle.
Selling your junk car is one option. The other is donating it to a non-profit for a tax deduction. Either way you win by getting your junk car off your drive way and getting money back in your hand.
The companies, services and non-profits on this page serve Madison and neighboring areas including Janesville, Verona, Fort Atkinson, Wisconsin Dells & Sauk, Wisconsin.
Where You Can Get Your Junk Car Removed In Madison, WI
Clear space in your driveway. Sell your junk car for cash and have it towed away in Madison, WI including the following locations:
53562, 53590, 53597, 53703, 53704, 53705, 53706, 53714, 53715, 53716, 53717, 53726, 53792.
How Much Cash Do Junkyards Pay in Madison, Wisconsin?
Companies that buy junk cars in Madison, WI, typically pay around $400 per transaction, but it can vary considerably.
New cars should fetch a higher price than old cars. Big cars will have a higher scrap metal value than small cars. And then you have to consider the salvageable auto parts and what kind of price these can fetch on the open market.
The tow truck cost will also be factored into the equation. Cash for cars companies offer free towing, but if you can drop the car off and negate the need for a tow truck, you might be offered more money.
| | | | | |
| --- | --- | --- | --- | --- |
| Make | Model | Year | Zip | Sold For |
| Dodge | Charger | 2007 | 53792 | $ 305 |
| Nissan | Sentra | 2015 | 53717 | $ 450 |
| Hyundai | Sonata | 2009 | 53704 | $ 740 |
| Saturn | Vue | 2007 | 53590 | $ 390 |
| Volkswagen | GTI | 2003 | 53562 | $ 250 |
Junk Car Removal Services That Buy Cars In Madison, WI
Junk car removal companies that serve Gary, Indiana.
Junkyards That Buy Junk Cars In Madison, WI
Do you have a junk car to sell in Madison, WI? Take a look at our list of local junk car buyers below, all of which pay cash for your damaged or junk car. Call today for an instant cash offer and to arrange free towing for your junk car.
American Automotive LLC
Address: 4201 Sycamore Ave, Madison, WI 53714
Phone: 1-608-224-1982
ZB Salvage & Recycling
Address: 4290 Hoepker Rd, Madison, WI 53704
Phone: 1-920-390-1200
All Metals Recycling LLC
Address: 1802 S Park St, Madison, WI 53713
Phone: 1-608-255-0960
Schmidt's Auto Inc
Address: 1621 Beld St, Madison, WI 53715
Phone: 1-608-257-0505
Do You Need a Title to Junk a Car in Madison, Wisconsin?
You can sell an old car without a title in Madison, WI, but not all companies will make an offer and the ones that do may not give you as much.
Search for that title before you sell your junk car. It will make your life so much easier!
Is it Free to Sell a Junk Car in Madison, WI?
In the first instance, you should be given a free quote for your vehicle. You are under no obligation to accept and can also shop around, getting a free offer from another junk car buyer and ensuring that you get top dollar for your vehicle.
They also offer free towing, with the tow truck drivers being the ones to hand over the payment and take the vehicle away.
At no point should you be charged for selling your old car to a cash for cars company. They are the ones paying you, and if you're being hit with hidden fees and quotes that keep dropping, there's a good chance you're being scammed.
Luckily, there are many more companies that buy junk cars in Madison, WI, and as you're not tied to any contracts or agreements, you can walk away from a company that tries to scam you and just contact another one.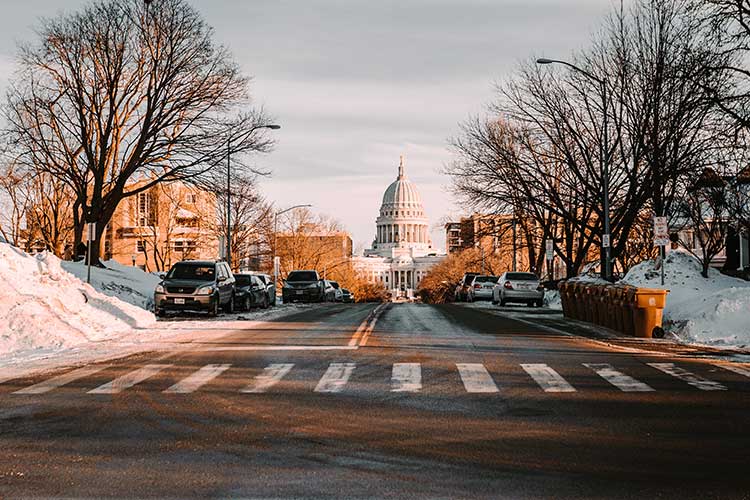 Vehicle Title & Registration in Madison, Wisconsin
One of the below office can assist you with your DMV needs including transferring or replacing a vehicle title or renewing your registration.
Madison East DMV
2001 Bartillon Dr,
Madison, WI 53704
(608) 264-7447
Madison West DMV
8417 Excelsior Dr,
Madison, WI 53717
(608) 264-7447
WisDOT Southwest Region Office
2101 Wright St,
Madison, WI 53704
(608) 246-3800
Car Donation in Madison, Wisconsin
Donate your junk car to a local non-profit and you will receive a receipt you can include in your tax return. Considering helping out a local non-profit in Madison.
Madison Donate Cars
5609 Medical Cir,
Madison, WI 53719
(608) 401-4107
Make-A-Wish Car Donation
250 E Wisconsin Ave,
Milwaukee, WI 53202
(855) 332-9474
Goodwill Madison Verona Road
4530 Verona Rd,
Madison, WI 53711
(608) 271-4687
Ronald McDonald House Charities
2716 Marshall Ct,
Madison, WI 53705
(608) 232-4660
Resources for Madison, WI Residents
How To Junk A Car In Wisconsin
Do you need a title or not to get rid of a junk car in Wisconsin? Learn more in our guide: How to Junk A Car In Wisconsin.