CashForYourJunkCar.org is an independent publisher. You will find affiliate links which means we may earn a commission if you purchase through these links. It doesn't cost you anything & it helps us keep the site running.
Trenton is the capital of New Jersey and home to around 85,000 residents and approximately 55,000 cars. That's a lot of vehicles (surprisingly, most are Hondas, with the Japanese manufacturer accounting for 4 of the 5 best-selling vehicles in the state). As a result, there is no shortage of demand for junk car services. Feeling charitable? Consider donating your car.
In this guide, we'll look at the biggest and best companies that buy junk cars in Trenton and non-profits that may accept car donations, helping you get the best price and service when scrapping your vehicle.
Where You Can Get Your Junk Car Removed In Trenton, New Jersey
Sell your junk, damaged or non-running vehicle in Trenton, NJ in the following locations:
08608, 08609, 08610, 08611, 08618, 08629, 08638, 08648.
How Much Can You Get For Your Junk Car in Trenton, NJ
| | | | | |
| --- | --- | --- | --- | --- |
| Make | Model | Year | Zip | Sold For |
| Toyota | Camry | 2005 | 08608 | $ 725 |
| Chevrolet | Malibu | 2006 | 08610 | $ 225 |
| Ford | Taurus | 1994 | 08618 | $ 135 |
| Honda | Accord | 2003 | 08638 | $ 350 |
| Honda | Accord | 1996 | 08648 | $ 355 |
Junk Car Removal Services That Buy Cars In Trenton, New Jersey
All of the below car removal services serve Trenton, New Jersey, offer cash for cars, and many will even give you free towing.
Areas served include the following neighborhoods of Trenton: Downtown Trenton, Coalport/North Clinton, Ewing/Carroll, The Island, West End, Duck Island, Franklin Park, & Top Road.
Junk car removal companies will tow your car away and pay you for your old, wrecked, non-running car.
Junkyards & Salvage Yards That Buy Junk Cars in Trenton, NJ
The following junk car pick-up services and junkyards are also available in this city and around Mercer County including East Trenton, Franklin Park, and White Horse. We haven't vetted these businesses and services to the same degree as the ones mentioned above, so we can't recommend them as highly.
That doesn't mean they're not professional. You may even get a better price!
We recommend contacting a few different companies on this list and comparing their prices and services to see which one is best suited to your needs.
Hawk's Auto & Truck Recycling
65 Muirhead Ave,
Trenton, NJ 08638
(609) 439-4678
Scarpati Recycling and Auto Salvage
1300-1350 New York Ave
Trenton, NJ 08638
KAARS Inc
2 Parker Ave
Trenton, NJ 08609
When Should You Consider Selling Your Junk Car To An Auto Salvage Company?
Look out for the following signs to know when it might be time to scrap your vehicle with one of the aforementioned Trenton junk car services.
Repairs Cost More Than the Car's Worth
Eventually, all consumer goods reach a point where the value is less than the price of a repair. It's true for computers, phones, and televisions, and it's also true for cars.
If there is an issue with the engine or transmission, that line could be crossed long before the rust sets in. Even the minor repairs can add up, and you'll be left with either a sizable repair bill or an equally sizable headache as you try to live with broken locks, damaged exteriors, and a variety of other issues.
It's Unsafe
Think about your safety and the safety of your family. Cars are incredibly safe these days, as they are rigorously tested to ensure their occupants have every chance of survival during high-speed crashes.
We're not just talking about high-end, luxury SUVs, either. The best safety features also find their way into the cheapest Hyundai's and Honda's.
What will happen to you and your family in the event of a crash, do you feel good about your chances of survival? If not, it's time to send that car to the salvage yard and see what you can buy to replace it.
You're Moving On
Junkyards aren't just for damaged cars. If you've been driving a trusty car for years, have clocked over 100,000 miles, and are constantly dealing with breakdowns and other issues, it might be worth considering a change.
Sure, it's still running and it's still getting you from A to B, but at what cost? Are you paying top dollar for what amounts to little more than an Ozone-depleting, wallet-draining lemon? If so, would it make more sense to scrap it and buy a reliable used car?
Many dealers offer discounts when you hand over your old car. Add a little finance and some incentives, and you could secure a deal that will save you time, money, and hassle in the long run.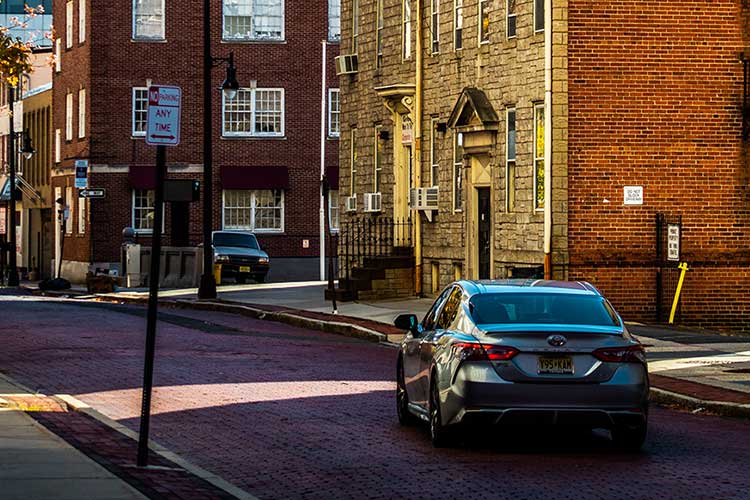 MVC Vehicle Centers Near Trenton, NJ
The following MVC (formerly DMV) offices can assist you with vehicle title & registration needs for selling your car.
Trenton
120 South Stockton Street
Trenton, NJ 08608
South Brunswick
2236 Rte 130 North
Dayton, NJ 08810
Medford
175 Rte 70
Suite 25
Sharp's Run Plaza
Medford, NJ 08055
Donate Your Car In Trenton, NJ
You can donate your junk car instead of selling it if you are feeling charitable. You may not make as much money on it, but you will receive a receipt that you can submit it for a deduction when it comes time to filing your taxes.
NoMoreWaiting Relief
912 Stuyvesant Ave,
Trenton, NJ 08618
(609) 977-0853
ArfforKids Donating a car
108 N Main St,
Windsor, NJ 08561
(888) 435-7801 ext. 820
Rescue Mission
98 Carroll St,
Trenton, NJ 08609
(609) 695-1436
El Centro of Catholic Charities
327 S Broad St,
Trenton, NJ 08608
609) 394-2056
One Simple Wish
1977 N Olden Ave #292,
Trenton, NJ 08618
(609) 883-8484
Resources for Trenton, NJ Residents
Selling Your Junk Car In New Jersey
You can learn the ins and outs of what you need to sell your junk car in NJ here.