CashForYourJunkCar.org is an independent publisher. You will find affiliate links which means we may earn a commission if you purchase through these links. It doesn't cost you anything & it helps us keep the site running.
As many as 15 million cars reach the end of their life every year in the United States. That's a huge number of vehicles and a vast mountain of scrap parts that will eventually be recycled and reused.
If you have a junk car to sell or donate these companies are the way to go. They can help you get your car removed in Salt Lake City and the surrounding areas including Provo, West Jordan, West Valley City, Tooele, Sandy and Centerville, UT.
Where You Can Get Your Junk Car Removed In Salt Lake City, Utah
You can sell your junk car in Salt Lake City, Utah if it's running or not in the following zip codes:
84108, 84109, 84111, 84112, 84113, 84115, 84116, 84119, 84120, 84128, 84144, 84180.
How Much Can You Get For Your Junk Car in Salt Lake City, Utah
Below are recent offers made to junk car sellers in Salt Lake City, Utah. Offers will vary by car model and condition.
| | | | | |
| --- | --- | --- | --- | --- |
| Make | Model | Year | Zip | Sold For |
| Mini | Cooper | 2007 | 84108 | $ 465 |
| Volkswagen | Cabrio | 2004 | 84111 | $ 395 |
| BMW | X5 | 2004 | 84113 | $ 440 |
| Chevrolet | Equinox | 2010 | 84116 | $ 385 |
| Pontiac | Bonneville | 1993 | 84144 | $ 255 |
Junk Car Removal Services That Buy Cars In Salt Lake City, Utah
Junk car removal companies that serve Salt Lake City, Utah.
Junkyards & Salvage Yards That Buy Junk Cars In Salt Lake City, Utah
The following companies buy junk cars for cash. They will give you a free cash quote in the first instance and will also offer free towing at a time that suits you, usually within 48 hours of the initial quote.
Standard Iron & Metal, Inc.
Address: 500 W, Salt Lake City, UT 84101
Phone: 1-801-972-4012
Tear A Part Auto Recycling
Address: 652 South Redwood Rd., Salt Lake City, UT 84104
Phone: 1-801-886-2345
CarSoldForCash.com
Address: 1010 Margaret Ave, Salt Lake City, UT 84104
Phone: 1-801-485-5111
PICK-n-PULL
Address: 585 State Route 171 West 3300 South, Salt Lake City, UT 84115
Phone: 1-801-264-0359
Nelson Scrap Metals
Address: 625 Iron Rose Pl, Salt Lake City, UT 84104
Phone: 1-801-834-6168
Utah Metal Works Inc
Address: 805 Everett Ave, Salt Lake City, UT 84116
Phone: 1-877-221-0099
PULL-N-SAVE
Address: 6980 West 2100 South, Salt Lake City, UT 84128
Phone: 1-801-508-1002
Western Metals Recycling
Address: 4201 W 700 S, Salt Lake City, UT 84104
Phone: 1-801-975-9669
All Truck & Car
Address: 3380 S 500 W, South Salt Lake, UT 84115
Phone: 1-801-265-9800
Where Can I Junk My Car in Salt Lake City, Utah
You have two options when it comes to selling a junk car in Salt Lake City.
The first is to go with one of the junkyards above. These local companies buy junk cars, salvage the parts, scrap the metal, and earn a small profit. It's a simple, straightforward, and hassle-free process, and you will get a cash sum at the end of it.
The alternative is to use a third-party junk car removal service. These companies pay cash, provide free towing, and have excellent customer support. The difference is that they act as middlemen, connecting the seller to a buyer (often the same junkyards highlighted above) and taking a cut.
You will still get cold hard cash for your unwanted car, but as there is a middleman involved, the offer might be smaller. On the plus side, the customer service is often better, and you can get a quote over the phone and by completing an online form.
By working with third-party junk car buyers as opposed to scrap yards, you generally have fewer restrictions with regards to what you can sell and what condition the vehicle is in. In truth, however, most junkyards will take pretty much anything that you offer them, including trucks, SUVs, compact cars, luxury cars, and other vehicles.
Is a Junkyard the Best Place to Sell My Car in Salt Lake City, Utah?
If you have an old car, a damaged car, or one that isn't operational, a junkyard is often the best way to sell. You'll get an instant offer, fast service, and free pick up, all by answering a few questions about the make, model, and condition.
However, if the car is operational, new, or is considered a classic car, you may be better off selling it to a private buyer. Generally speaking, you will always get more money by selling privately, but it's far from a hassle-free or simple process and you'll have to deal with queries from buyers, test drivers, and everything else that goes with selling a big-ticket item.
Alternatively, you can sell to a car dealership and get top dollar that way. You will get a free cash offer and you may even be offered more via a trade in. Just remember that dealerships are still middlemen; they still need to profit from your vehicle, and so they won't pay as much money as a private buyer.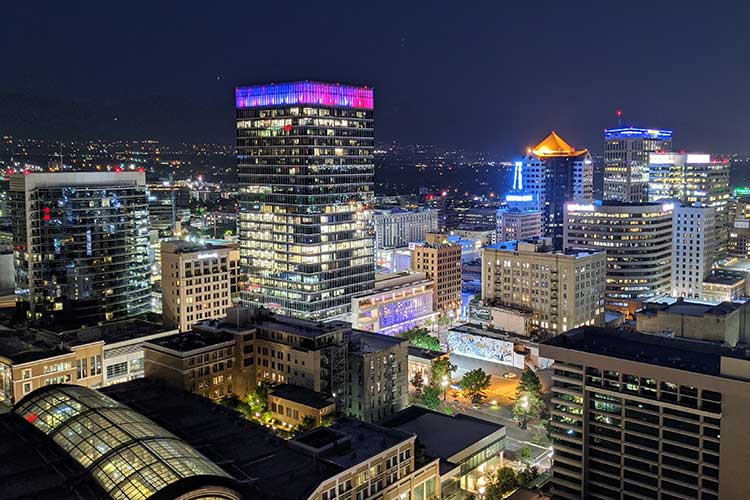 Vehicle Title and Registration in Salt Lake City, Utah
Contact one of the below Utah DMV offices to get help with your car title or registration.
Utah DMV Salt Lake City Office
380 W 2880 S,
South Salt Lake, UT 84115
(801) 297-7780
Utah DMV Provo Office
150 E Center St #1400,
Provo, UT 84606
(800) 368-8824
Donate Your Car in Salt Lake City, Utah
Donate your junk car to a local non-profit. Your car will get a second chance and you will be eligible for a tax deduction. Call a local non-profit to see if they accept car donations.
Wheels For Wishes
299 S Main St,
Salt Lake City, UT 84111
(855) 417-9474
Salt Lake City Car Donation
132 S State St,
Salt Lake City, UT 84111
(801) 998-2451
ArfforKids Donating a car
170 W Center St,
North Salt Lake, UT 84054
(888) 435-7801 ext. 1220
Pezreg Car Donation
3390 State St,
South Salt Lake, UT 84115
(435) 681-3808
Big Brothers Big Sisters of Utah
2121 S State St #201,
Salt Lake City, UT 84115
(801) 313-0303
Resources for Salt Lake City, UT Residents
How To Junk A Car In Utah
We have all the information you need about how to junk a car in Utah including title information, tag information, and ways to get rid of your car.