CashForYourJunkCar.org is an independent publisher. You will find affiliate links which means we may earn a commission if you purchase through these links. It doesn't cost you anything & it helps us keep the site running.
Boise is the capital city of Idaho. It's also the most populous, which means it is home to a huge number of the state's cars and drivers, as well as its junkyards. If you have a car to scrap in Boise, ID, you have plenty of options at your disposal and we will look at some of the best ones in this guide.
If you want to sell or donate your junk car or used car, keep reading. All companies listed should be able to help you in Boise and the surrounding area including Nampa, Star, Meridian & Garden City, Idaho.
Where You Can Get Your Junk Car Removed In Boise, Idaho
You can sell your junk car in Boise, Idaho if it's running or not in the following zip codes:
83616, 83634, 83642, 83646, 83702, 83703, 83704, 83705, 83706, 83709, 83712, 83713, 83714, 83716.
How Much Can You Get For Your Junk Car in Boise, Idaho
Below are recent offers made to junk car sellers in Boise, Idaho. How much you make will be based on your car model and condition.
| | | | | |
| --- | --- | --- | --- | --- |
| Make | Model | Year | Zip | Sold For |
| Volvo | S60 | 2004 | 83634 | $ 295 |
| Saturn | Ion | 2004 | 83702 | $ 275 |
| Mazda | MPV | 2002 | 83634 | $ 365 |
| Ford | Explorer | 2001 | 83714 | $ 520 |
| Honda | Civic | 1998 | 83716 | $ 490 |
Junk Car Removal Services That Buy Cars In Boise, Idaho
Junk car removal companies that serve Boise, Idaho.
Junkyards & Salvage Yards That Buy Junk Cars In Boise, Idaho
The companies on this list will buy junk cars in Boise, ID, regardless of their condition. You can sell cars, trucks, and SUVs and your vehicle will have some value regardless of its age or condition.
Pick-A-Part Jalopy Jungle
Address: 5501 State St., Boise, ID 83703
Phone: 1-208-853-7266
A Pick-A-Part Jalopy Jungle location that showcases thousands of trucks and cars, all separated by manufacturer. You will need to bring your own tools to pick those auto parts, but you will have a seemingly endless selection to choose from.
TNT Auto Salvage
Address: 6334 W Gowen Rd, Boise, ID 83709
Phone: 1-208-362-4211
A recycling facility located in Boise, Idaho. TNT buys all kinds of junk cars and trucks and is a great place to offload that unwanted vehicle. TNT promises the "best price in town", with top dollar paid for junk cars of all makes, models, and conditions.
All Makes Auto Salvage LLC
Address: 4026 Banner St, Boise, ID 83709
Phone: 1-208-362-7111
All Makes Auto Salvage LLC has been serving the Boise, ID area for over 2 decades and is open 6 days a week. It has a vast selection of parts and also buys junk cars for top dollar.
Who Buys Cars That Don't Run Near Me?
An auto salvage company will take a used car in any condition. Whether it's running or not will dictate how much cash you're offered and whether or not you can drive it to the junkyard (potentially securing a higher quote) but there is no scenario that will prevent you from getting an offer.
If it doesn't run, it will still have some valuable car parts that can be stripped, salvaged, and sold. If it doesn't have any auto salvage whatsoever, it still has scrap metal value.
Can I Buy a Car from a Junkyard?
Yes! You can buy vehicles and car parts from an auto salvage yard. It's a cheap way to get premium parts and to potentially save you a few bucks in the process. Obviously, you'll have to lower your expectations a little, but if you have the skills to fix and upgrade, go for it!
Will I Always Get Free Towing for My Junk Car?
A reputable cash for cars company will provide you with free towing. If you work with a company that buys junk cars in Boise, ID, they should provide you with a free pick-up throughout the city.
Of course, those junk car buyers still need to pay for the towing services, so you'll likely get a higher cash offer if you're able to drop off the car. However, you will still be offered a cash sum and a collection.
Even if your car isn't running, has been stripped of parts, and is little more than a rusted shell, your car still has scrap metal value and that will still warrant a free towing service and a cash offer.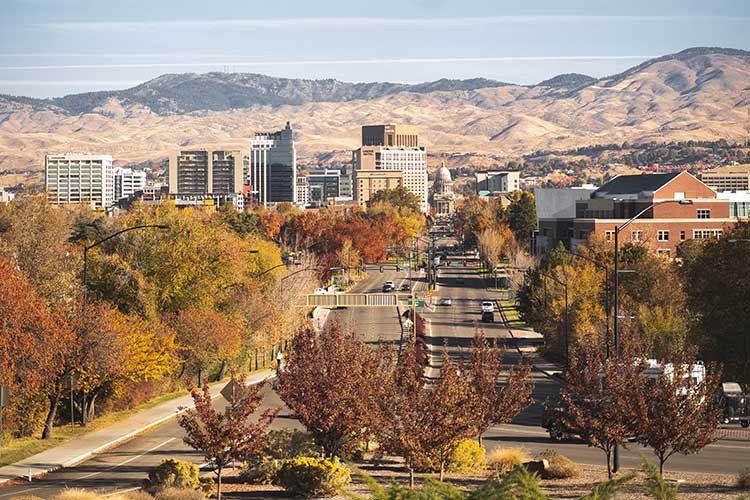 Title & Registration in Boise, Idaho
You can replace or renew your vehicle title or registration at one of the below Idaho DMV offices.
Ada County DMV Vehicle Registration
8655 W Franklin Rd, Boise, ID 83709
(208) 577-3135
Chinden DMV
9115 W Chinden Blvd #103,
Garden City, ID 83714
(208) 577-4666
Meridian DMV Vehicle Registration
1769 N Lakes Pl #100,
Meridian, ID 83646
(208) 577-3135
Ada County Motor Vehicle
10769 W State St,
Star, ID 83669
(208) 577-3135
Donate Your Car In Boise, Idaho
Feeling charitable? Consider donating your used or junk car to a local non-profit. They get your support and your get a tax deduction.
Charity Car Donation Nampa ID
16150 N Merchant Way,
Nampa, ID 83687
(208) 502-2037
Donations Drive for Cars Office
4831 N Five Mile Rd,
Boise, ID 83713
(208) 408-3903
American Relief Foundation Car Donation
3716 N Middleton Rd,
Nampa, ID 83651
(888) 435-7801 ext. 430
The Arc of Idaho
4402 Albion St,
Boise, ID 83705
(208) 343-5583
Resources for Boise, ID Residents
How To Junk A Car In Idaho
From plates to titles, to salvage cars to running cars, we have everything you need to know about getting rid of junk cars in Idaho.