CashForYourJunkCar.org is an independent publisher. You will find affiliate links which means we may earn a commission if you purchase through these links. It doesn't cost you anything & it helps us keep the site running.
If your car, truck, or motorbike has reached the end of its life cycle, then it could be time to sell it for scrap. You might not see much value in that rusted metal and obsolete parts, but there's always value in even the oldest and most damaged vehicles.
Junk car buyers, removers and non-profits will take that automobile off your hands, free up some space in your garage or on your driveway, and give you some cash for your troubles. Selling junk cars for cash is an easy, simple, and incredibly quick process, and that's as true in Hartford, Connecticut as it is anywhere else.
Where You Can Get Your Junk Car Removed In Hartford, CT
Get rid of your junk car in Harford, Connecticut including the following zip codes:
06095, 06103, 06105, 06106, 06110, 06112, 06114, 06117, 06120, 06160.
How Much Can You Get For Your Junk Car in Hartford, CT
The below are recent offers made for junk car sales. Prices offered will depend on the make, model, year, and condition of the vehicle.
| | | | | | | | |
| --- | --- | --- | --- | --- | --- | --- | --- |
| Offer | Year | Make | Model | City | St. | County | Zip |
| $195 | 2004 | Audi | A4 | Hartford | CT | New Haven | 06704 |
| $195 | 2003 | Audi | A4 | Hartford | CT | New Haven | 06704 |
| $650 | 2005 | Audi | A4 | Hartford | CT | New Haven | 06704 |
| $655 | 2005 | Audi | A4 | Hartford | CT | New Haven | 06704 |
| $695 | 2002 | Mercedes-Benz | C | Hartford | CT | New Haven | 06704 |
| 690 | 2002 | Mercedes-Benz | C | Hartford | CT | New Haven | 06704 |
| $2,000 | 2007 | Toyota | Camry New Generation | Hartford | CT | Hartford | 06118 |
Junk Car Removal Services That Buy Cars In Hartford, Connecticut
Junk car removal companies that serve Hartford, CT.
Junkyards & Salvage Yards That Buy Junk Cars In Hartford, CT
To help you get top dollar for your junk cars in Hartford, Connecticut, we have listed some of the best junkyards below. Not only will these companies offer you cash for your vehicle, but they will also arrange for free towing and remove your car at a time that suits you.
The services can help remove your junk car in the Harford area and all across Connecticut including New London, New Britain, New Haven, Norwalk, Norwich, and Danbury, CT to the west.
A & B Auto Salvage
Address: 54 Wrobel Pl, East Hartford, CT 06108
Phone: 1-800-346-6318
Demilo Company
Address: 26 Leibert Rd, Hartford, CT 06120
Phone: 1-860-525-8915
Miller Recycling Corporation
Address: 295 Huyshope Ave, Hartford, CT 06106
Phone: 1-860-247-0241
Sims Metal Management
Address: 263 Locust St, Hartford, CT 06114
Phone: 1-860-819-3245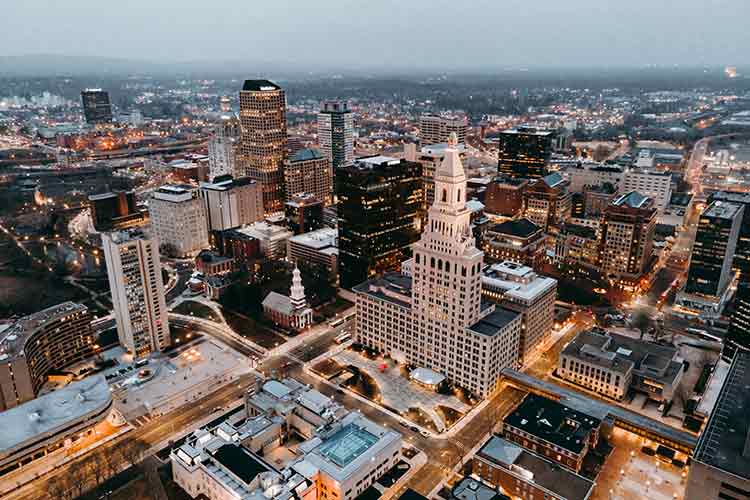 Getting More From Hartford, CT Junk Car Buyers
To get the best deal when you sell your junk car, make sure you contact several different companies and get a quote from each of them. A reputable junk car buyer should make you a cash offer and provide you with free towing. If they offer to pay by check and refuse to accept any other method, or they arrive with less cash than was agreed, refuse their offer and take your services elsewhere.
As you can see, there are lots of companies offering cash for junk cars, so you don't need to remain loyal to the ones that go back on their word and try to screw you over!
Be honest with the customer service representative when talking about your car, and make sure you have all of the necessary documents on hand when the tow truck arrives, including the car's title.
Hartford, CT DMV Title & Registration Offices
You can find a full list of CT DMV locations here. The below offices can assist with title and registration needs when it comes time to sell or junk your car.
Wethersfield DMV Office
60 State Street
Wethersfield, CT 06161
Donate Your Car in Hartford, Connecticut
Consider donating your car to a non-profit in the Hartford, CT area.
Hartford Habitat for Humanity
780 Windsor St, Hartford, CT 06106
(860) 541-2208
Catholic Charities
831-841 Asylum Ave, Hartford, CT 06105
(860) 493-1841
Resources for Hartford, CT Residents
How To Junk A Car in Connecticut
You can learn how to junk your car and what to avoid in our guide: How To Junk A Car in Connecticut.