CashForYourJunkCar.org is an independent publisher. You will find affiliate links which means we may earn a commission if you purchase through these links. It doesn't cost you anything & it helps us keep the site running.
You can get big money for your unwanted car in Lakewood, NJ, and we're here to show you how! We'll take a look at the best salvage yards and junk car services in Lakewood, New Jersey and show you how to get the best quotes and the highest cash offers every time.
We can help sell your junk car in Lakewood and throughout Ocean County including: Leisure Village East, NJ, Leisure Village, NJ, Toms River, NJ, and Ramtown, NJ.
Where You Can Get Your Junk Car Removed In Lakewood, NJ
You can get your junk car removed in zip code 08701 which accounts for all of Lakewood, NJ.
Junk Car Removal Services That Buy Cars In Lakewood, NJ
Junk car removal companies that serve Lakewood, NJ.
How Much Can You Get For Your Junk Car in Lakewood, NJ
Below are recent offers made to junk car sellers in Lakewood. Payment will vary by car make, model, year and condition.
| | | | | |
| --- | --- | --- | --- | --- |
| Make | Model | Year | Zip | Sold For |
| Toyota | Camry | 2007 | 08701 | $ 405 |
| Chevrolet | Suburban | 2001 | 08701 | $ 340 |
| Dodge | Caliber | 2009 | 08701 | $ 360 |
| Volkswagen | Jetta | 2008 | 08701 | $ 320 |
| Nissan | Altima | 2016 | 08701 | $ 615 |
Junkyards & Salvage Yards That Buy Junk Cars In Lakewood, NJ
Here is a short list of junkyards in and around Lakewood that buy unwanted & junk cars.
NorthEastern Core Recyclers
1525 Prospect St, Lakewood, NJ 08701
(732) 927-0221
John Blewett Inc
246 Herbertsville Rd, Howell Township, NJ 07731
(732) 938-5331
James W Kappler Inc
82 Seagoin Rd, Brick Township, NJ 08723
(732) 477-6666
Questions about Junking Cars in Lakewood, New Jersey
The process of offloading your unwanted vehicle in a junkyard is pretty simple. The companies make sure the process is completely hassle-free and painless. There are still some legal hoops that you need to jump through, however, and this is where things get a little more complicated.
If you're junking a car for the first time, keep the following in mind:
What Will I Get for My Junk Car?
There are a lot of factors at play here, so we have to give you the answer that you never want to hear: It depends. The size of the vehicle, along with its age, model, and condition, will all impact the price.
Generally, if the car is a complete mess and is just gathering rust and dust, you can expect an offer of between $50 and $300. This is the state that most junk cars are in and it's the average price paid for these vehicles.
If it's still operational and doesn't have a great deal wrong with it, $300 to $400 is usually a good starting price and you could even get upwards of $2,000. This is where the "$10,000!" quotes come in, but as much as junk car buyers like to quote these prices, they are only paid on very rare occasions.
Is it Ready to Be Junked?
On the rare occasions that you have a vehicle worth $2,000 to $10,000 in junk, you have to ask yourself if it's ready to be junked at all. Just because the junkyard will take it off your hands and offer you a good price, doesn't mean it's the best option.
With a little elbow grease and some replacement parts, you could get significantly more, and if you find a buyer who just needs a little run-around, you can sell it "as is" for much more than the junk value.
Private selling is a good option for any car that is operational or has some inherent value (such as classic cars that just need a little work). However, if you have a beaten-up old Honda that's barely even recognizable and looks like a prop from a post-apocalyptic film, it's definitely ready to be junked.
What if I Don't Have the Title?
You can still sell your vehicle in NJ without a title. You might not get as much money as you would if you had the title, but if you show them proof of ID and an old registration that should suffice. Make sure you mention this when you get your quote.
What do I do About my Auto Insurance?
If the vehicle still has an active auto insurance policy, you will need to contact them and request that it be canceled or moved to your new vehicle. This is not something that the junkyard can do for you, nor will it happen automatically as soon as you get rid of the vehicle.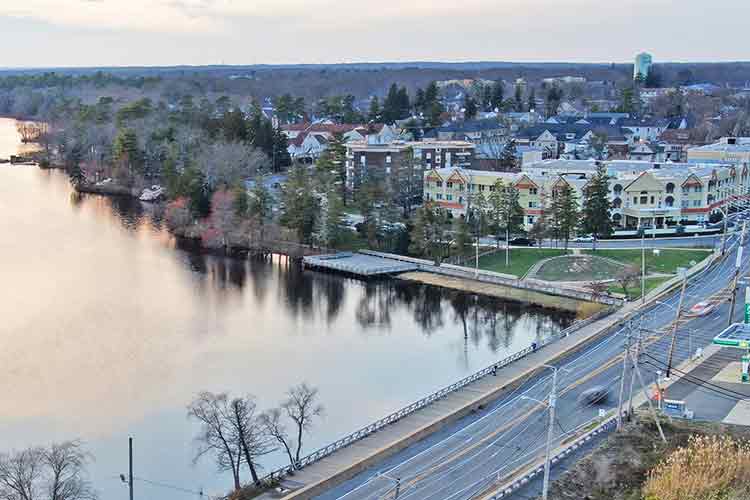 NJ MCV Vehicle Centers Near Lakewood, NJ
The NJ MVC provides title and registration services at the below locations near Lakewood. You may need to schedule an appointment. You can find a map of all MVC vehicle centers here.
Lakewood MVC Vehicle Center
1195 Rte 70
Leisure Center
Store 9
Lakewood, NJ 08701
Toms River MVC Licensing Center
1861 Hooper Ave
Village Square
Toms River, NJ 08753
Donate Your Car In Lakewood, NJ
If you prefer to get rid of your car by donating it, consider one of these organizations in Lakewood, NJ
Kars4Kids Car Donation
1805 Swarthmore Ave, Lakewood, NJ 08701
(732) 779-9415
Habitat for Humanity Car Donations
(877) 277-4344
Resources for Lakewood, NJ Residents
Selling Your Junk Car In New Jersey
You can learn the ins and outs of what you need to sell your junk car in NJ here.