CashForYourJunkCar.org is an independent publisher. You will find affiliate links which means we may earn a commission if you purchase through these links. It doesn't cost you anything & it helps us keep the site running.
Queens is the second-largest borough in New York City, with a population of over 2.23 million people. If it were an independent city, it would be the fifth-largest in the United States.
If you reside in Queens, New York, you may recognize some of the auto salvage yards in this guide. All of these companies deal in car parts and scrap metal and the majority also pay cash for junk cars regardless of the condition.
We also included a short list of non-profits in Queens, NY that you can call to see if they take car donations. Remember, charities will typically take cars in any condition, be it working or not, totaled or in mint condition.
Where You Can Sell Your Junk Car In Queens, New York
Junk car removal services will pay you in cash for your junk car & tow your vehicle away in the following Queens, NY zip codes:
11368, 11373, 11385, 11377, 11355, 11375, 11372, 11432, 11691, 11434, 11354, 11435, 11419, 11420, 11374.
How Much Can You Sell Your Junk Car For In Queens, NY
| | | | | |
| --- | --- | --- | --- | --- |
| Make | Model | Year | Zip | Sold For |
| Buick | Rendezvous | 2009 | 11368 | $ 415 |
| Toyota | Corolla | 2011 | 11373 | $ 1,030 |
| Nissan | Murano | 2007 | 11368 | $ 675 |
| Volkswagen | Cabrio | 2004 | 11373 | $ 405 |
| Lincoln | Town Car | 2002 | 11373 | $ 350 |
Junk Car Removal Services In That Buy Junk Cars In Queens, NY
Junkyards & Salvage Yards That Buy Wrecked Cars In Queens, NY
Got a junk car that you need to offload in Queens, NY? Begin the process by contacting the following junk car removal companies, all of which will take your vehicle away and leave you with a cash payment.
Contact at least two of the numbers on this list to ensure that you get the best quote for your junk car.
International Salvage Yard
Address: 16909 Liberty Ave, Jamaica, NY 11433
Phone: 1-503-283-1797
East Coast Auto Salvage Inc
Address: 9550 Tuckerton St, Jamaica, NY 11433
Phone: 1-718-739-2025
J&J Auto Wreckers
Address: 150-35 Liberty Ave, Jamaica, NY 11433
Phone: 1-718-739-4377
How Do I Junk a Car in Queens, NY?
To sell your junk car in Queens, NY, simply contact one of the companies above, answer a few simple questions (make, model, condition, location) and wait for a quote. Don't jump the gun, though, as you'll need to contact at least one other junk car buyer to make sure you're getting a good price.
Generally, the prices won't change too much from one buyer to the next, but there may be some slight differences and a few simple phone calls could put an extra $10 to $50 in your pocket.
Prepare all of the necessary paperwork, arrange a time for the tow truck to collect your vehicle, and swap the keys for cash when they arrive.
Only seal the deal if they hand over the amount initially agreed-don't accept a cent less! Although most "cash for cars" companies are legit and honest, some will try to undercut you.
If you were quoted $350 for your vehicle and they show up with $330 and give you a lame excuse regarding the missing funds, you'll probably accept the payment, hand over the keys, and get on with your day. After all, what's $20? If they do that with 2 customers a day for the entire month, they've just earned themselves $1,200!
When there is no valid reason for a reduced offer (such as a missing part or incorrect info), don't accept the cash. It takes 5 minutes to make another call and get another quote, whereas they will lose the cost of the towing service. In other words, they have more to lose than you do, so stand your ground.
Do I Need a Title to Junk a Car in Queens?
It is easier to sell a junk car in Queens, NY if you have a title. However, it might not be necessary if the car is old and there are valid reasons why you don't have a title.
As long as you can show a driver's license and registration, you should be okay. Make sure you mention it before getting a quote, as it will likely affect the amount that they offer.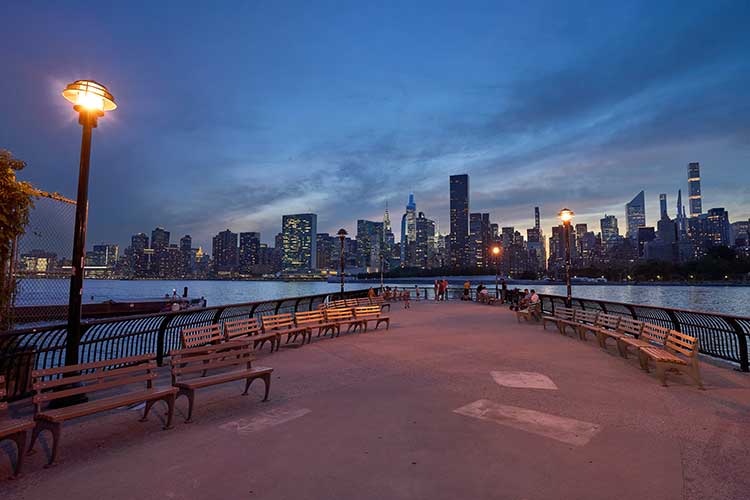 Vehicle Title and Registration in Queens, New York
Contact one of the below DMV offices in or near Queens, NY for car title or registration needs.
New York State DMV – Springfield Gardens
168-35 Rockaway Blvd,
Queens, NY 11434
(718) 966-6155
New York State DMV – Jamaica
2, 168-46 91st Ave,
Jamaica, NY 11432
(518) 486-9786
New York State DMV – College Point
30-56 Whitestone Expy,
Queens, NY 11354
(518) 486-9786
NYS DMV Salvaged Vehicle Examination Site
212-19 99th Ave,
Queens Village, NY 11429
(518) 486-9786
Donate Your Car in Queens, New York
Donate your junk car for a tax deduction. Call a local Queens, NY non-profit to see if they accept car donations.
Queens Car Donation
178-18 Jamaica Ave, Jamaica, NY 11432
(646) 200-5788
Donate a Car 2 Charity Queens
86-25 Liberty Ave, Jamaica, NY 11417
(917) 283-2877
Car Donation Queens
(347) 434-9215
Resources for Queens, NY Residents
Selling Junk Cars In New York
Learn more about the ins and outs of selling your junk car in New York.