CashForYourJunkCar.org is an independent publisher. You will find affiliate links which means we may earn a commission if you purchase through these links. It doesn't cost you anything & it helps us keep the site running.
Whether you have an SUV in terrible condition, a pickup truck that has seen better days, or a Ford Mustang that has a lot of value under the hood, a junk car buyer could be the best way to turn your scrap into cash. Donating your car is also an option.
We can help you sell your junk car in Salem, OR and the surrounding area including Corvallis, Eugene, Springfield, as far east as Bend, and as far south as Medford, OR. Junk car removal services are happy to pay you for car, sell it for scrap or parts and leave you with a check and space in your driveway.
These companies promise to pay cash on delivery and will even arrange a tow truck to pick up your vehicle and take it away free of charge. Salem, Oregon has several of these companies and we will highlight the best of them in this guide.
Where You Can Get Your Junk Car Removed In Salem, Oregon
You can sell your junk car in Salem, Oregon if it's running or not in the following zip codes:
97301, 97302, 97303, 97304, 97305, 97306, 97317, 97392.
How Much Can You Get For Your Junk Car in Salem, Oregon
Below are the values of junk cars in Salem, Oregon. Offers will vary by car model, condition and market demand for parts.
| | | | | |
| --- | --- | --- | --- | --- |
| Make | Model | Year | Zip | Sold For |
| Volvo | XC90 | 2005 | 97301 | $ 295 |
| Chevrolet | HHR | 2008 | 97303 | $ 275 |
| Kia | Optima | 2008 | 97305 | $ 365 |
| Toyota | Prius | 2014 | 97305 | $ 520 |
| Ford | Explorer | 2001 | 97317 | $ 490 |
Junk Car Removal Services That Buy Cars In Salem, Oregon
Junk car removal companies that serve Salem, Oregon.
Junkyards & Salvage Yards That Buy Junk Cars In Salem, Oregon
The following companies all buy junk cars in Salem. They pay cash and provide free quotes over the phone, so feel free to call all of them and see what sort of price you can get for your vehicle.
Cherry City Metals
You can sell everything from junk cars to home appliances to this Salem, OR company. It recycles everything and pays cash for every last scrap of metal. To get a price for your junk car or metal appliance, contact Cherry City Metals today.
Address: 3155 Kanz Ct NE, Salem, OR 97301
Phone: 1-503-588-0721
G&R Auto Wreckers Foreign
In addition to its vast collection of OEM auto parts for both domestic and foreign vehicles, G&R pays cash for junk cars. It's a great option for scrapping junk cars in Salem, OR, and if you have a project on the go you can pick up a few parts at the same time.
Address: 4825 Ridge Dr NE, Salem, OR 97301
Phone: 1-503-393-4270
Fred's Auto Removal
A scrap metal dealer and junk car buyer based in Salem, Oregon. Fred's is an auto salvage company that will take cars in any condition, including those with accident damage and water damage.
Address: 1043 E Power Blvd #24 Gresham, Oregon 97030
Phone: 503-810-3061
Who Will Buy Cars in Salem, OR?
All of the aforementioned companies offer cash for junk cars in Salem, Oregon, but they are not the only ones. There are also companies that operate outside of the area but cover neighboring cities. In addition, there are companies that offer a "cash for junk cars" service but simply operate as middlemen. If you contact them, they'll do all of the paperwork and arrange everything for you, but your vehicle will ultimately end up at one of the above junkyards.
How Much Will a Salem Junkyard Give Me for a Car?
The offer you receive will depend on everything from the condition of your vehicle to the make, model, and size. It really all comes down to how much the junkyard can get for your car. They will look to strip it for parts in the first instance and will then sell the metal for scrap.
The actual junk car removal service will also be factored into the equation. If you are able to drop the car off at the junkyard, you'll likely get more than if you were to arrange for a tow truck to pick it up, as this is an expensive service that the junk car buyer provides.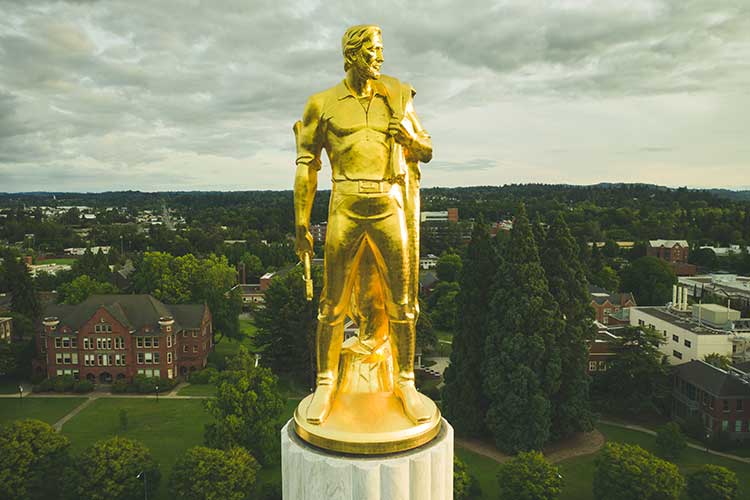 Oregon DMV Offices Near Salem, OR
The below DMV offices can help you with vehicle title transactions such as a title transfer when selling you car.
North Salem DMV
955 Lancaster Dr NE
Salem, OR 97301
503-945-5000
South Salem DMV
4825 Commercial St SE, Suite 120
Salem, OR 97302
503-945-5000
Dallas DMV
514 E Ellendale Ave
Dallas, OR 97338
503-623-4556
Albany DMV
2242 Santiam Hwy SE
Albany, OR 97321
541-967-2014
Eugene Drive Test Center
2870 W 10th Pl
Eugene, OR 97402
541-686-7855
Donate Your Car in Salem, Oregon
The following non-profits would be happy to talk to you about donating your car in Salem.
Habitat for Humanity of the Mid-Willamette Valley
1220 12th St SE,
Salem, OR 97302
(503) 364-6642
Oregon Paralyzed Veterans of America
3700 Silverton Rd NE,
Salem, OR 97305
(503) 362-7998
UGM donation site
1000-1198 Front St NE,
Salem, OR 97301
(503) 763-0219
Resources for Salem, OR Residents
How To Junk A Car In Oregon
Not sure if you need a title to sell your junk car? Not sure what to do with your car's plates? We cover everything you need to know about selling your junk car in our guide: How To Junk A Car In Oregon.