CashForYourJunkCar.org is an independent publisher. You will find affiliate links which means we may earn a commission if you purchase through these links. It doesn't cost you anything & it helps us keep the site running.
Topeka is home to several junk car buyers, all of which promise cash for vehicles in any condition. Sell your junk car, make a few bucks, and benefit from a completely hassle-free process. You can have your old car removed in 48 hours.
Tokeka, Kansas is also home to a number of non-profits that may be happy to take your car as a donation. They will give you receipt which may give you a tax deduction when it comes time to file your taxes.
Where You Can Get Your Junk Car Removed In Topeka, Kansas
You can sell your junk car in Topeka, Kansas if it's running or not in the following zip codes:
66606, 66607, 66608, 66609, 66610, 66611, 66612, 66614, 66615, 66616, 66617, 66618, 66619, 66621, 66622.
How Much do You Get for Junking Your Car In Topeka, Kansas
The quote that you receive for your vehicle will depend on everything from the company that you go through to the condition, make, and model of your vehicle. The market value of scrap metal also comes into it, as your car will ultimately be scrapped for its metal content.
We have highlighted a few top junk car buyers in Topeka, KS. Just remember that a reputable company will not charge you for a quote and you are under no obligation to accept. You are free to shop around and get as many quotes as you can, before accepting the one that offers you the best price.
The following junkyards and junk car removal buying services buy cars in & around the following neighborhoods of Topeka: Tecumseh, Spencer, Elmont, Mathews Park, Pauline, Cullen Village, Highland Park, Oakland, North Topeka, & Belmont.
| | | | | |
| --- | --- | --- | --- | --- |
| Make | Model | Year | Zip | Sold For |
| BMW | X5 | 2001 | 66607 | $ 645 |
| Chevrolet | G20 | 1982 | 66609 | $ 205 |
| Chevrolet | TrailBlazer | 2003 | 66611 | $ 305 |
| Jeep | Grand Cherokee | 2005 | 66614 | $ 635 |
| Toyota | Camry | 1996 | 66618 | $ 375 |
Junk Car Removal Services That Buy Cars In Topeka, Kansas
Junk car removal companies that serve Topeka, Kansas.
Junkyards that Buy Junk Cars In Topeka, Kansas
A & A Auto and Truck Parts Inc.
A & A Auto and Truck Parts buys and sells junk vehicles and promises to pay top dollar for your unwanted car. It also sells auto parts and offers a 90-day warranty on all of them. Call the number below to contact A & A Auto and Truck Parts today and get a quote for your junk car.
Address: 1440 SE Jefferson St, Topeka, KS 66607
Phone: 1-785-234-6661
Bailey Recycling & Scrap Metals
A scrap metal specialist that deals in copper, aluminum, brass, and more. It processes millions of tons in scrap every year and is one of the biggest companies of its type in Topeka, Kansas.
Address: 4120 NE Seward Ave, Topeka, KS 66616
Phone: 1-785-232-5721
Heartland Auto Salvage
Heartland buys junk cars in Topeka and surrounding areas. Just call for a quote, arrange a pick up, and get cash for your vehicle.
Address: 729 NE Kincaid Rd, Topeka, KS 66616
Phone: 1-785-633-7556
L & M Northside Recycling
A recycling center based in Topeka, Kansas. L & M accepts vehicle donations and also deals in large appliances. It doesn't seem to be a cash for cars dealer, but there might be some benefits here if you have a lot of junk to shift.
Address: 1801 NE Grantville Rd, Topeka, KS 66608
Phone: 1-785-291-2000
Langley Recycling of Topeka
A major recycling center that deals with construction, industrial, and commercial waste, as well as waste from households.
Address: 503 SE Branner St, Topeka, KS 66607
Phone: 1-785-234-2691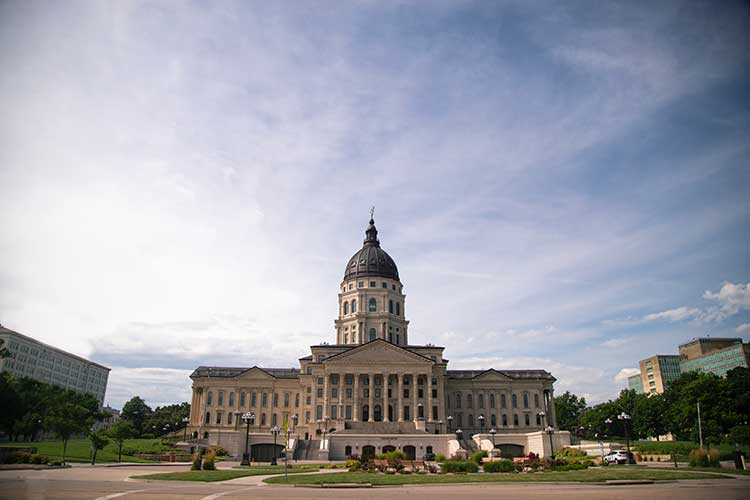 Title & Registration Services in Topeka, Kansas
The Kansas Department of Revenue locations can help you get your title and registration paperwork together for selling your car or truck.
Shawnee County Motor Vehicle Annex
5938 SW 17th St, Topeka, KS 66604
(785) 251-5415
Motor Vehicle Satellite Office
3600 South Topeka Blvd.
Topeka, KS 66603
(785) 233-8200
Donate Your Car in Topeka, Kansas
You can still make money on your junk car if you choose to donate it. You will get a receipt from the non-profit organization you donate it to which you can use when you file your taxes. Non-profits in Topeka that may accept car donations:
United Way of Greater Topeka
1527 SW Fairlawn Rd,
Topeka, KS 66604
(785) 273-4804
Habitat For Humanity
121 NE Gordon St,
Topeka, KS 66608
(785) 234-4322
Let's Help Inc
200 S Kansas Ave,
Topeka, KS 66603
(785) 234-6208
Capper Foundation
3500 SW 10th Ave,
Topeka, KS 66604
(785) 272-4060
Catholic Charities
234 S Kansas Ave,
Topeka, KS 66603
(785) 233-6300
Resources for Topeka, KS Residents
How To Junk A Car In Kansas
Learn about your junk removal options, what to do, and what not to do when junking your car in Kansas.